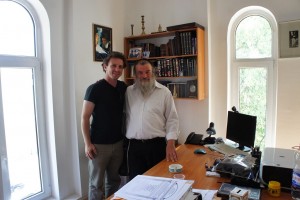 Rav Sidelnikov and I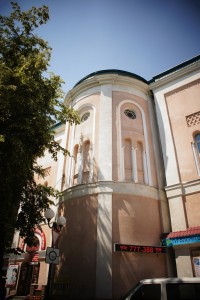 Last Friday Rabbi Mendy Vogel sat comfortably in his chair in a large well lit room in Queen's gate London. He was telling a story of the Jewish people before singing the kiddish, the last prayer of Friday meal as his daughters stood beneath his arms pressed against his sides. His son, Hachy held by Emily while Yankel was off in his room. Michael from Morocco sat beside me and Vlad's kind eyes twinkling looked on at the Rabbi as Mendy spoke. The images were taken by my eyes like the beaches of Trindade, to never be forgotten. There was a moment of bliss, sitting behind a table full of kind people from all over the world sharing food that Rabbis' most kind wife made for us. I couldn't help but try and give back, having resisted all evening and now towards the end, my resolve weakened by wine and vodka, I snapped three shots. Rabbi Vogel looked at me disapprovingly, as the head of the table, shook his finger; and I nearly dropped through the floor and put away my camera. No pictures on Sabbath.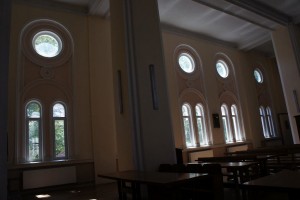 Inside the synagogue
I was reminded of this moment today, as I sat on the river walk while the sun set at 9pm coloring the clouds blue and pink and purple along with the mom, wife and brother of my best friend, in intensive care at the hospital. We sat there and
began to speak of my sister following Sabbath rule of no phone calls. Kolya laughed at this and I used to as well, until I realized the importance of it. Whether G-d needed rest or not, we do. We must relax. Making plans, making phone calls, texting, checking email, driving somewhere, etc.. may not seem like work but it is stress, and the point is not to not work but to relax. No, a phone call is not work but it is stress. And Jews and non-Jews need a day where they relax and de-stress.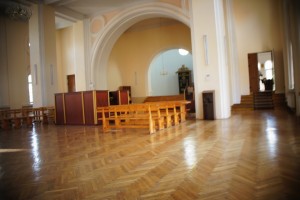 Inside the synagogue.

This feeling was confirmed by the head Rabbi of the Carpathian region: Rabbi Victor Gudzinskiy during our interview today. He was friends with my dad and his eyes glistened with humor as he stroked his long, grey beard, speaking candidly of the tiny numbers of Jews in Ivano-Frankivsk, of their difficulty with keeping programs afloat, Shabbat dinners, cemetery well kept, the Synagogue running and archive work alive. Somehow they always manage he said. "We always have rooms for weary travelers and we always have Shabbat and we always have Kosher food." I asked him what type of Judaism he keeps to and what his scholl (synagogue) keeps to. He said there is only one religion and only one law and it is written in black and white. To follow and not to follow is man's choice, but he will not guide people in the direction of disobeying the law. He may not always be able to keep all the laws but it doesn't mean it's good but it doesn't make the person bad either.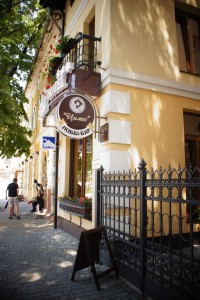 Again and again, I see the common thread of faith, I see the importance of the diaspora; being able to find a home in every city among those who will accept me based on my birthright. As David Mendelman of Kiev said: "It is difficult to be a Jew" and it can be even more difficult to be a Jew among non-Jews, but I find it less and less difficult to be a Jew among non-Jews so long as we keep to being Jewish.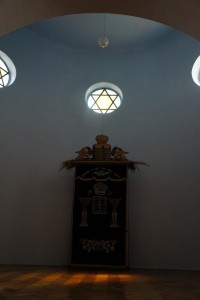 Rabbi Gudzinsky spoke of the massacres of WWII in Ivano-Frankivsk, how this town of 80,000 people became 20,000 when 60,000 were killed with 150 survivors and how before the first wave of immigration out of the region, Romanian Jews which were kicked out of Romania, moved here and filled the empty houses. It's that ability to be spread out and always have a common belief and a common culture and a common language; the community and the self of togetherness that has kept the people afloat.
He asked me if I put on my tefillin today. I hadn't. We made a mitzvah (good deed) by wrapping the cowhide with a prayer box around my arm securing it by my heart and another one on my head for my mind, said a daily blessing, took off the tefillin and on that, we parted.