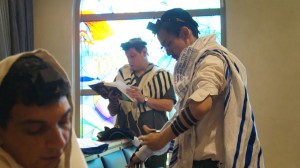 http://www.singaporejews.com/
After three days on trains without sleep or shower, I arrived in Singapore.
Singapore is not a small Island and it took about an hour by bus to get to the other side from the border with Malaysia where I walked briskly in humid heat only 137km from Equator to the Maghain Aboth Synagogue. An Indian guard outside the Sukka said for me to take a cab to the other synagogue, Chesel Ed, where services were being held. There are two synagogues and not enough practicing Jews at the moment for two, so the two Synagogues alternate services. All Jews need two Synagogues to have the one they go to and the one they don't. What seperates out the Singaporan Jews is that they all go to both and seem to have a good time.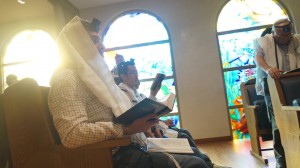 Two minutes later I walked along the road where a nanny was taking three three-year-old boys with blue and white kippas, tzit-tzit touching the ground and little torah scrolls in their hands.
The beige and white two story Synagogue sat on a hill overlooking the sky-scrapers of Singapore. A lush garden and trees surrounded it. Inside, beige gold and white hall with many windows and wicker seats around the perimeter created an open feeling. Jews in suits, fedoras, with beards, with out in casual and formal dress with tallits draping them prayed, walked around and smiled. They were Asian, Indian, Middle Eastern and Ashkenazim. Kids had free reign walking into the ark and chasing down adults. Everyone made sure to smile and shake my hand and the rabbis came up and introduced themselves. The rabbi and hazzan, sang like Sephardi, with a bit nasally but vocal tones, wavering it up and down as if still in Marrakesh.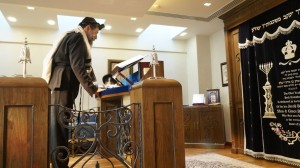 After wards over a hundred people packed into a sukka beneath the trees outside drinking wine, vodka and juice with curry chicken and rice.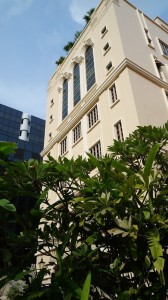 They were from everywhere: England, Brazil, America and France. Those living there and those just passing through. Kind faces and good conversations flowed. Later that night, a scene unimaginable occurred, rabbis in a trance, embracing the Torahs, dancing with the men of congregation jumping and spinning while women danced in the women's section, chatted and looked on. At the end, all the Torahs, maybe ten or fifteen were taken out of the ark and the entire congregation ran out of the synagogue in a parade procession to the end of the busy street and back. Kids on shoulders, Torah's kissed, men drunk on Whiskey and Torah.
I wanted to take a picture desperately, but I realized, sometimes one must be there, one must experience things with their own eyes. A camera at a function like that makes some just a little less likely to really feel free and how can one express their faith without freedom?