The June London air is brisk like a Ukraine mid fall. I stepped out of the airport early in the morning and once having gotten my bearings got on the tube for Piccadilly circus.
I had hoped to have some contacts by the time I got here but no luck and so I'd have to investigate on my own. I hadn't slept on the flight and my head was a bit woozy from anti-biotic and a meningitis vaccine. An hour later I was walking up the stairs of the tube and what I came before me can't be easily described. It was so unexpected. The word circus does not begin to describe the scene.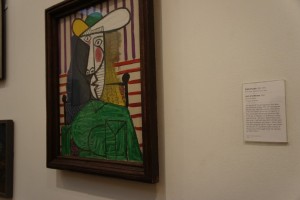 Tate Museum: Picasso draws a Jewish friend.

In front of me was a plaza filled with people and at the center was a giant statue on a tall circular pedestal of what I guess is cupid. Circling this pedestal was a whirlpool of double decker buses, English taxis, cyclists and cars. Encircling me were rows of monolithic cliff like gray and orange fours story buildings between which streets circled like wind from a cyclone so that I felt like I was encircled by them. It took me a little to take it all in. I took a few pictures and headed down Regents Rd. to the Buckingham canals in front of which the mall stretched with giant English flags on the sides all the way to Buckingham palace. The canals now a lake surrounded by green park and trees was alive with people eating lunch and kids playing. Pigeons would walk around in packs and fly between people, setting down on their arms. I walked through the Military building where young guards stood at attention, pain visible in their faces and shaking limbs from standing for hours on end. That line from Trainspotting about wankers is true, it is a funny looking army. I made my way to the Scotland Yard and then walked towards a Chabad. Along the way I was pointed to Center for Jewish Life and having failed to find it, I walked to the Chabad where all there was was a small sign to show for it and no one inside. Failed at my mission I made my way to Kings Cross to take a train to Leeds. $500 to go to Leeds and back last minute switched my decision and after paying a $60 cab, I passed out at my hostel in Greenwich for the next ten hours. London… not as smooth as I expected.