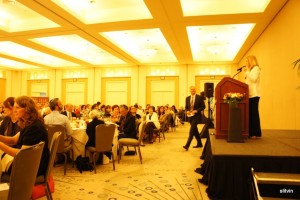 Ms. Manning taking the stage at the La Jolla Hyatt
Jewish Family Service put on a luncheon at the La Jolla Hyatt with Lauren Manning as a speaker.
As I listened to her speak, I thought of how it is people like her that showed there desire to survive and overcome that survived the Holocaust. She was working inside one of the twin towers on September 11th, 2001. She was horribly burned over 90% of her body. She made it out of the crumbling building and then crossed a street to an ambulance and through sheer will and support of family and husband, she survived and recovered to not only live a normal life but tell about her story to inspire others.
Amazing talk and I was very lucky to be there to take pictures of this event a few weeks before heading out on my journey.