This article would not be possible without the help of a lot of people including editing, hosting and help from Eliana Garcia and Saulo Ferraz. Deep gratitude and appreciation to Sao Paulo and friends who made this trip possible.

Thank you in advance for reading. If you like the article and the project, we'd love to keep in touch and we are always happy for any help.
If in Buenos-Aires, walking across the street is like walking out of a trench in 1914 France, then in Sao Paulo it is like a walking through a London park, a lesson in civility. If walking in Buenos-Aires is like being plopped down in Europe among Europeans, then in Sao Paulo it is like a UN as a rainbow of skin-tones, hair color, eye color and fashion styles abounds in every direction.
Blacks with green eyes or Japanese older women running into shops clutching umbrellas while white businessmen are out to lunch and young rastas are selling trinkets by the museums. There is a feeling of at least on the surface inclusiveness. Like in Argentina, it is all there like a salad bowl, mixed but not quiet melded like a melting pot. You can see the same inside some Synagogues: Black families praying along side Latin families along side Jewish immigrants from Europe. It is easy to be Jewish and separated from Jews and from Brazilians and at the same time it is easy to be part of the culture. Everything is natural in this warm yet separated culture of Brazil.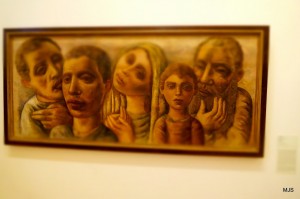 A painting at Pinacoteca of ex-slaves by Lasar Segal, a well known in Brazil Jewish-Brazillian painter of 20th century.
For instance, if you are anywhere near the middle class, you do not send your kids to the rundown public schools where teachers are as in the states: underpaid and have no way to fail students. So instead, there are various private religious schools including Jewish schools for Jewish kids. Also, it is very Brazilian to go to an exclusive athletic/social club that caters to your demographic and so there is club for Jews called Hebraica that caters to Jewish families even though some non-Jews are members as well. The club has a school, lush gardens, giant pools, theaters and sports facilities for almost every sport including Judo and gymnastics. During the summer, like my days at JCC (Jewish Community Center), kids run amok the grounds with the camp counselors, running after them, stopping them from abusing poor turtles in the ponds.There are restaurants, bars, salons, cooking areas, saunas, a synagogue and even plastic surgery.
As usual, there are the divides between the various religious and socio-economic classes. Such as the Safra Synagogue that was built by the Safra family, the Sassoons or Rothchilds of Brazil. Safra Banking family generosity and banks can be seen all over Sao Paulo from the the museums to Hebraica. Their synagogue like other Syrian synagogues in the region, is strictly for members and off limits for most Jews who are not Syrian or are of middle class, very similar to the divides that exist between the rich and poor.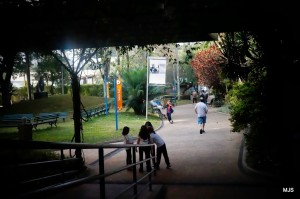 Kids playing at the Hebraica social club.
The rich of the richest city of Brazil do not travel on the streets, they spend their time in the sky, flying from helipad to helipad of one tall building to another. The middle class live isolated from each other in their towers and spend countless hours in their cars going from work to home in the worst traffic ridden areas of he world while the poor live in red bricked communities that cover hillsides like anthills and move about underground in the subways and buses. It is a very visual hierarchy that reflects in the skin as much as it reflects in location. The darker you are the closer you are to the ground.
How did this come about? Well as the white settlers came, they wiped out the natives and brought in the blacks to work the plantation. In 1880's the slave system collapsed and as the country began to thrive, natives and poor from the north east began moving to the cities. A melting pot occurred even as dictatorships ruled the country, benefiting some, developing economically but keeping the poor poor and the rich rich. But 1980s came and a wave of democracy flew through south America and with it, so did development. The skyscrapers began to be surrounded by favelas of the arriving poor from countryside and the cities grew and grew.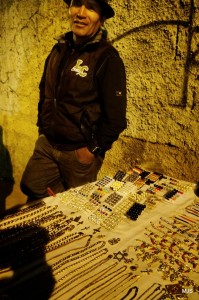 Selling crosses and magendavid near thesubway.
Through out these turbulent times, Jewish culture has been a part of Brazil. They have been there since the times of conversos, who hid in Dutch Brazil from the Spanish and Portuguese inquisition. They traveled north to what used to be Dutch territories of Recife and Curacao where they built the first synagogues of Latin America. When Portuguese took over Recife, the Jews fled to the other Dutch Colony up north, New Amsterdam. New York Jewry in a sense, began in Brazil. Then, fleeing pogroms, Jews arrived from East Europe into Bom Retiro as they did in other parts of South America. Later during WWII Jews arrived stealthily via Uruguay as there were limits set on how many could arrive, set by the United States. In 1947, anti-zionist displaced Jews of Syria arrived with their wealth and quickly set up businesses and banks, quickly rising to the top as they did in other parts of Latin America.
Today, as you walk around downtown, you trace the history of Jewish emigration and the
history of Sao Paulo. The colorful Bom Retiro neighborhood near the train station with its myriad of shops like Once neighborhood in Buenos Aires is where Jews first settled in the original shantytowns. There they built up their businesses and Synagogues and as they made money and Bom Retiro became a place to shop with ultra-designer shops inside old buildings, they moved to the newer downtown where they built CIP, reform synagogues near the new sky scraper lined street of Paulista and Consolacao. Then they moved up the street to the new area called Hygienopolis, or Hygene City.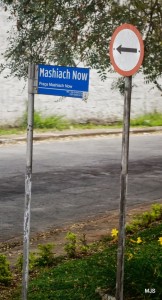 Moschiach (Messiah) Now plaza.
Sao Paulo is built on top of 200 rivers and is prone to flooding. Earlier, this led to constant epidemics of pneumonia, typhus, cholera. Hygienopolis however, is located on a hill where one of the first hospitals was built such that it was above water. Soon after the hospital, coffee moguls built their homes in the area creating the new suburb. As Jews began to climb the ladder, the religious ones naturally became attracted to a place that would have a Latin word for Kosher in it's name. Today, you can see the Sao Paulo Crown Heights in the streets of Hygienopolis as religious couples walk the parks and r
ush home for Shabat and as orthodox men walk the streets in the evenings after services.
In the fifties the secular community was moving to the outskirts again into Murumbi and Garden City, Cidade Jardim. As the streets of United Nations filled with the best of stores, malls, design and art galleries, similarly they filled with Chabads looking for the secular Jews who built the premier hospital of South America, Albert Einstein hospital.

The hospital, provides a helipad for the wealthy to arrive and receive the utmost care. It is the only hospital in the world that does not feel like a hospital from its gardens on the ground and on rooftops, its gyms for the employees, the beauty saloons, posh restaurants and special waiting rooms for kids. The hospital offers the best in training for its staff from administration to special simulation trauma rooms with robot patients.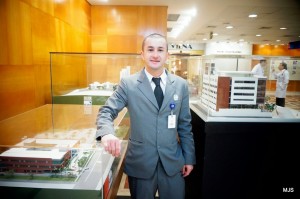 Gustavo, customer relations officer of sorts at AE Hospital
This treatment, very expensive treatment, has allowed the hospital to pour money into public hospitals like Moysés Deustch Hospital and creating medical centers all over the city including many inside the poor comunidades (Portuguese for community and also known as favelas.)
Of course many workers at these hospitals live in the comunidades. Comunidades are the working class areas that are seen as dirty by some but they are simply a comfortable place for the working poor. Unlike the many American poor, the poor in these countries own their own little houses, they have power and sewage. They know their neighbors and they live in the city as they lived in their villages in the countryside. Happy and integrated in the community. The lack of transportation and education of course fosters crime as an easy way to make money, but most live in these areas and work in the city as providers of the middle class with the benefits middle class enjoys.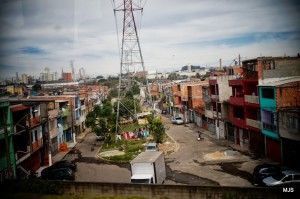 Comunidade or Favela. You can see that is a self assembled neighborhood where one can hang clothes in the middle of the street without worry that someone may take them. Same goes for houses as most are left unlocked.
What is life like for Jews in Brazil? It is a separate but equal if they want it. Like Japanese or Blacks or Indigenous, there is indifference towards Jews in Brazil as if they are just another group. So much so that Magendavids are sold and worn by almost anyone as they come in and go out of fashions among Brazilians like crosses and baseball hats.
When a Jazz festival happens in Ibirapuera park, the young go to the park while the Jewish Cultural Center, built to look like a giant seven story Torah Scroll, holds a Jazz concert inside for older Brazilians. When Jewish film festival comes to town, it plays in the Hebraica and when a Brazilian street artist makes it big, his paintings are shown inside a Jewish Gallery and when Lucian Freud, grandson of Sigmund Freud has an exclusive show, you can find it inside the architectural wonder that is MASP (pronounced mah-spee, Sao Paulo Museum of Art), the large building supported solely by three large columns at two corners and one edge. And when it is 10p on a Saturday night just don't feel like cooking, you can head over for some Kosher pizza across the street from a bar full of rowdy college kids drinking in the street. Because there is nothing more Sao Paulo than some wine or beer and some pizza at ten pm on a Saturday night.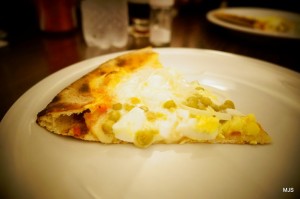 Brazilians are proud to be the world's capital of pizza. This one comes with eggs and capers.
This site is a lot of work for just one person. But it is possible thanks to people like you. Click here if you'd like to know how you can help SamTheJewishGuy and MyJewishStory




https://soundcloud.com/senya-litvin/conversation-with-marcus-of