Thank you in advance for reading. If you like the article and the project, we'd love to keep in touch and we are always happy for any help. 
     

After a great Succot at Chabad and a very spiritual Yom Kippur at temples Beth Israel and Emanu El, I was ready for a festive Simcha Torah. Simcha Torah is the holiday of Jews getting the Torah and it is the day when you finish reading the five books of Moses. It's a festive time when people drink and dance all night inside of synagogues.

I remembered the intense drinking and Torah dancing in Singapore and I also remembered the thousands raised by the Rabbi for a chance to carry the torah. I remember the timid congregants and the Gabai goading them into giving thousands of dollars to walk around the beemah with the Torah. I also remembered how I was asked to go up to the Torah in Buenos Aires and then pressured into donating $100 I didn't have. So I was not thrilled about going any place when I really had nothing to donate or give. So I was ready and yet weary at a time when I had nothing to contribute.
    The holidays are a time for Jews to come together and the same money that angered Jesus is still a big part of many synagogues when tickets to even a small Schull can be three, four, five hundred dollars and more. I  wanted to be around Jews for Simcha Torah but without invitation I had nothing.
    As always, when you wish for something, it often arrives just not from where you expected at it. The day before, I sent an email to Linda Church. Linda and her husband run a for-profit charity and company called Nika water (all profits after expenses go to help people around the world). I was introduced to them by my good friend Thoko. He is one of the most amazing people I know with more energy and gratitude for life than humanly possible and so are the people he introduced me to. Linda donated and help me with a part of my Central America trip and she has been a huge supporter. The first time I was invited to Shabbat at her beautiful home I was less overwhelmed by the home than by the love I felt, the delicious food I tasted and the sense of belonging that she created in her home. Regardless of whether her guests were Jewish or not, they all felt the spirit of Shabbat.
     So when I received an invitation for Simcha Torah Shabbat at the Church's I was more than thrilled. I grabbed a bottle of Santiago whiskey inside an Easter Island statue island bottle and a copy of my book and drove out hoping to arrive on time. I arrived as food was still being prepared by Linda's Israeli and very kind sister-in-law, Orly. Her brother was no longer on crutches and Linda's teenage son was even taller than before. Kids always remind you the passage of time and I forgot how long it had been since I saw them last.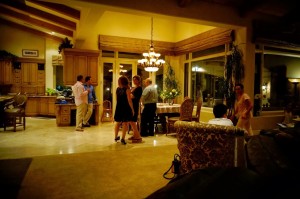 This time, Linda's other kids were off in college but the house was still full of children and guests like her nephews and nieces since her brother's family was staying with her.
      When I arrived, Linda's energetic mom and Orly were cooking up a storm and getting ready for the guests to arrive. The guests included a family from a kibbutz in Schar-ha Nagev, a town on the border with Gaza. The kibutz is near Sderot, and they often had rocket fire over the past few years. Recently rockets again began to rain down again after a long lull as usual, just as peace talks in Israel began.
      The family was brought to San Diego by Adopt a Familiy Foundation, a charity run by Carine Chitayat and her husband. Carine is petite, blond and classy lady. She and her husband are from Geneva and actually grew up with Jean Michel Spira who had me at his house for Shabat lunch in Kiev. Carine's foundation brings over one family a year from Israel to San Diego to get them away from the attacks and to form connections between San Diego Jews and the Jews who are suffering from terrorism. The father and family patriarch, Yankel looked like a kind man with short grey hair, mostly bald and a well fed belly. His two young daughters were with him as was his wife with curly blond hair. They arrived at the kibutz in the seventies, and lived there ever since.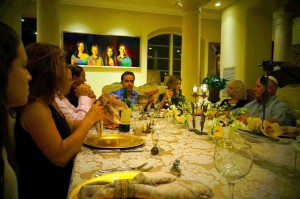 After drinks and appetizers, we rounded the large table and everyone began to sing the song of Shabbat. Afterwards, Linda's younger son who just arrived from a football game, recited the prayer to the women in English by heart with a bit of help from his cousin. And after, Linda's brother went around the table placing his hand on the children's heads as he recited the prayer to the children. We said the brucha (prayer) to the wine in a beautiful chalus and then broke the round golden brown Moroccan chalah.   Then we went to get the Moroccan food that Linda's mom prepared. The food is bathed in sauces and makes me wish I had been able to visit that country. As we ate, Orly's daughter, a vivacious little girl of about seven or eight was bouncing around the house giving out hugs and bracelets. She bet me a bracelet I couldn't eat the food on my plate. The rice, lemon salad, two types of fish, lamb and couscous filled my plate. I finished with time to spare and expect a bracelet next time I visit.



    We sat at the table and Yankel began to sing songs of Israel with his daughters. This man who fought for Israel, whose father fought for Israel was singing as if he was in Israel now and it was as if  we were all back to Israel in 1947, 49, 67. He went on to tell about his kibutz and how on this kibbutz they rehabilitate disabled people with the animals. His amazing methods would amaze even Deepak Chopra like when he said that his methods of putting parakeets have cured people with sever paralysis and placing people on horses taught people to walk who could not do so before.  Sadly, his future is not bright and not because of the rockets fired from Gaza, but because the kibutz lifestyle is slowly disappearing as rich Israelis buy up properties and turn Kibutzim into gated communities.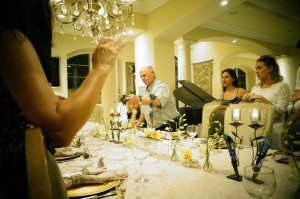 This is the amazing power of bringing people together. You cannot feel a connection through a TV or a website, only after a nice dinner can you connect and really see each other and step into each other's worlds. As we sat there at the table and Linda and I began talking politics, I felt as if I were home. We talked about their business and how hard it is to make it these days. Linda is able to raise so much money for so many causes and yet the nice house is not indicative at all of how people are doing. We talked about the healthcare and how her family in Canada with socialized medical system were not able to get procedures in time. It is these kinds of dinners that make people come together and really understand each-other without the soundbites and the superficial appearances. All thanks to people like the Chitayats and Churchs.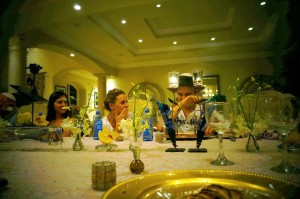 I left the Church home happy, inspired and refreshed. Simcha Torah is about our law, our Torah which guides us towards a spiritual and fulfilling life. It is about a restart and as I think of my time on Shabbat at a beautiful home with a wonderful family, I think to my time at the Spira household thousands of miles away in Kiev. For me, it was another restart and right when I needed it most; giving me new ideas, new possibilities new energy.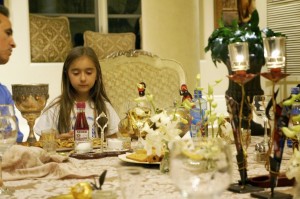 For more information about humanitarian non-profits run by the Church family, please visit  nikawater.org, sujajuice.com and if you are interested in hosting or helping to host a family, please go click on adoptafamilyfoundation.org



This site is a lot of work for just one person. But it is possible thanks to people like you.  Click here if you'd like to know how you can help SamTheJewishGuy and MyJewishStory