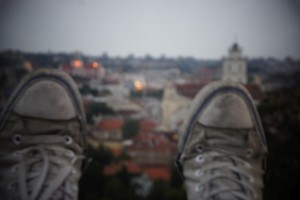 Photos and Writing (MJS)Editing: Clayton Beach
It's funny how fate works out. I am partly a Litvak (Lithuania Jew) several generations removed.
I didn't think I'd go there this time but no matter how I tried skip Lithuania, the path lead me to Vilnius. And by no accident I arrived Shabat and on Vilnius day of the City celebration. Vilnius is a city of 500,000 in a country of 2.5 million that has only had 40 years of self rule in the past two hundred years but a long period of a Lithuanian-Belorussian-Polish Empire competing against the Austro-Hungarian empire. But the old glory faded, old castle destroyed, and all but the splendor of the narrow streets of the capital city is lost. In the words of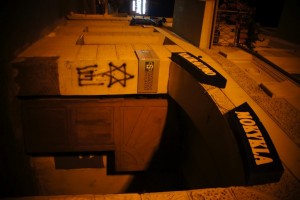 Graffiti around the city.
Andres, who I met at a wine bar the night before I left: "there hasn't been a generation that hasn't had all of its things plundered. It is rare for someone to have an old cup." It is tough for the 2.5 million people sandwiched in an area the size of Holland in between Poland and Russia. In a sense, it is a miracle as is Ireland, Armenia and of course, Israel. The city itself is divided in two: the old, multi-colored with small streets and very European and the new with high-rises and stadiums on the other side of the river with a flagged Citadel of the old castle looking over both sides.
Today, Lithuania is free as is Poland, and not just as far as basic human rights, after the war Vilnius is virtually free of Jews. However, today, there is a large Chabad (which is impossible to find especially on a Chabat) a working synagogue and a community that isn't afraid to go around with Star of David tattoos. It is a very mono cultural place, where being Jewish elicits the common question I received in many other places: "Do you eat pork?"
The only surviving Synagogue stands near the city center on the outskirts of old town. I expected the synagogue to be similar to the one in Oslo, but it was much larger, much grander and much more Ashkenaz, with the Torah ark adorned with intricate forms, a dome with a star of David and beautiful columns. It looked more like the fourteenth century church, the first church built in Vilnius than anything else. It may have been that the first church borrowed something from the Jews or the other way around.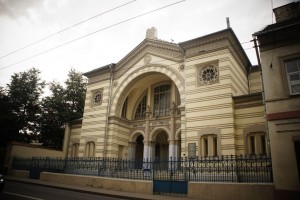 Main and only surviving synagogue.
The Rabbi spends two weeks in Israel and two weeks in Vilnius, and the cantor has a range and vibrato in his voice that makes the soul rise while his precise pronunciation does not miss a syllable of the prayer. There is no dinner, there is no lunch as there is in other synagogues. The congregation is mostly Russian speaking, old, they pray with somber stoic look. There is little singing, little celebration. People look at me apprehensively. A young man from Israel came up to me with a smile and gave me a Torah reader while the old looked at me with suspicion. The old men prayed while elderly women behind a white screen sat quietly depart. As the services end, I catch the cantor for a quick chat but I am shooed out of the synagogue. He tells me that there is a fight between the Chabad and the Synagogue which practices the Lithuanian style of Judaism (no hats, no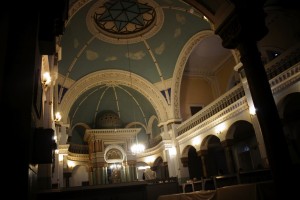 Inside the Main Synagogue
jackets, no long hair or beards, just a deep scholastic research of Judaism). I guess some things never change.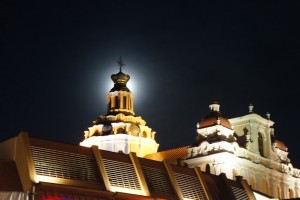 Add caption
Lithuania, a small country that experienced an incalculable loss by KGB murder of its intelligentsia and Gestapo of the Jews: the country had to revive new professors, teachers, writers. It still maintains one of the highest tertiary educations in Europe and yet the faces on the metal plates on buildings that show famous residents speak to a lot of Lithuanians that are no longer there, whose families have been wiped out and will not contribute any longer.
As I spoke to Ugre and Andres, the blond, spectacled, middle aged but attractive couple at the wine bar they poured for me generously from the bottle and spoke candidly about Jewish life as they knew it. They knew there used to be many Synagogues, they knew the food Jews ate was different, but according to Ugre ,I don't look like a "Jew" because I don't have a Jewish nose and she didn't see the issue in asking me about pork. "It brings up the issue of being a proper Jew" Andres noticed and it's true, I'm not being a proper Jew then again, with over 600 commandments, few are as there are few proper people in any religion. I thought I was supposed to leave a day early, but Vilnius didn't want to let go and I ended up having an extra day to attend services, look for and fail to find the Chabad house, and failed to see any Jews on the streets as I usually do and go to the Ex-KGB/Gestapo office building which is now the Genocide museum.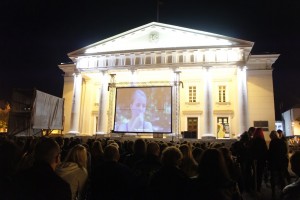 Film festival at the town hall.
I went inside the jail cells. They are under ground, green padded doors, some just big enough to stand and some padded with straight jackets. Andres would not name the Holocaust as he spoke about what happened, or talk about the Lithuanian contributors and I understand why, it is uncomfortable. At the same time, I know that a lot of people ask why Jews keep talking about the Holocaust, and it is because if any of those people lost family members, mothers, fathers, sisters, brothers, nieces, violently, senselessly; I don't think they'd forget about them either. To forgive is ok, but one should never forget and how can one not forget aside from speaking and reminding oneself about it? They will not be forgotten because those who perished will not be there for bar-mitzvahs, their kids will not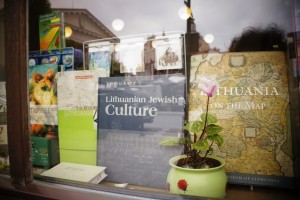 Book store in Old Town
go to temple or write books or fix bones or invent new technologies. World shouldn't forget because the world should never use that which is created for the good of humanity (computers, chemistry, physics) for evil. Many of the ones who want the world to forget are those who wanted them dead in the first place.

I don't want to end on a grim note. I didn't find much Jewish culture in Vilnius, it could be said it was a waste, but I see why Jews lived there, I can see why they prospered there and why the Jews from Lithuania were some of the most scholarly in Judaism and in secular knowledge of most other Jews in Eastern Europe prior to 1917. It is a country that values knowledge and values freedom and it gave both to Jews for centuries. As I wandered around the art galleries of the palace in the center of the city, I saw paintings of Rabbis, professors and University chancellors. As I wandered the streets filled with people for the celebration of the city, I saw the inclusivity of kids, grownups and teenagers of all cultures, music of all genre, good food, great beer and books for sale. I hope to see you again Vilnius, I want to hear your Jewish stories.