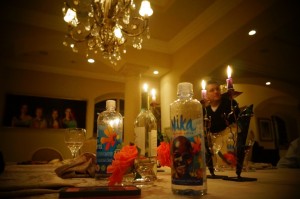 Shabbat at the Churchs'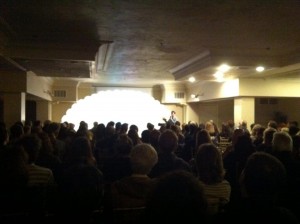 Speaking about My Jewish Story at Pecha Kucha in San Diego
I arrived in Los Angeles with $5 in my bank account, finances in disarray, parents angry over my current "job" and no place to stay. With faith I learned to hone and trust, things little by little worked out: a friend offered his place, a family friend suggested a Rabbi whose synagogue I went to give my first public talk at, I was invited to speak by Leslee Shaefer at the Pecha Kucha where I met the owner of the Meshuga coffee shop. I had a meeting with our town Jewish Dharma Bum, Jeff Szlotnik and interviewed the Chabad Rabbi Chalom Boudjnah whose house I later visited for Shabbat. I went to a JDC Entwine event "Inside Shanghai" where I learned about JDC work on sending all around the world doing essentially what I do for a couple weeks but with a great support network. At the event I met Lisa Slaven, Dallas Brown and Jonathan Goldstone who introduced me to Dovi Katzev who used to go to school and wrestle with my friend Beata. He is the founder of Moishe House San Diego and we had my second speaking event at Chabad in Pacific Beach along with Moishe House without walls. I had a Shabbat dinner at the Moishe House after that and attended a YAD Happy Hour and a JDC comedy night.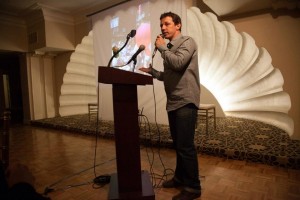 Speaking at Pecha Kucha
I'm writing this after speaking to a room full of people at Pecha Kucha from diverse backgrounds about my journey and the journey I plan to take. There was Leslee and Dayna, two Jewish women that do a lot of good in San Diego and tomorrow I will speak at UCSD with one of my staunchest supporters: Shivani Singh about importance of diversity.
By Sunday, I can do little but have that faith that all will be ready and I will depart for Mexico and I will have but one hope that when I get back, the Jewish world and the non-Jewish world will be a little bit closer.
I will update this on Sunday but for now, check out IndieGoGo and support MJS buy buying prints, pre-buying a book and making the idea of a world where people want to know about each other and share their cultures a more common thing. IndieGoGo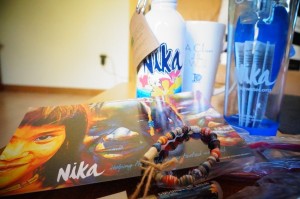 Schwag, compliments of Nika Water.
Update 2/25 I'm still in San Diego.. On Thursday I gave a talk at the TiLs at UCSD and an amazing Shabbat dinner at the Churchs'!