The densest population in the world today is in Manila Philippines. To get from one part to another it can easily take an hour in a taxi and red lights of rush hour traffic can stretch for miles. Wide, green parks divide shanty towns and skyscrapers. Poor kids and college students swarm the parks where they fly kites, practice martial arts and rehearse songs and dances.  In this swarm of humanity it should not be surprising that there are Jews and have been for hundreds of years, and yet it is surprising to many who hear that I went to Philippines. Besides the several Chabads for business men and travelers, there is a permanent synagogue. It used to be in Manila but as Makati grew and Manila became too difficult to get to, it moved to a small street near the Saudi Embassy where the dome, menorahs, and stars of David blend in with the skyscrapers surrounding it.
The synagogue is home to a few dozen families from around the world. The first Jews that came here during Portuguese and Spanish expeditions are not as evident as the converted Filipinos, the Baghdadi elders and the expatriates from South America and United States. They are businessmen that like in other parts of the world, came here for a year and stayed for forty. Some were born here and tried to leave but the nature of Philippines brought them back. This is a proud country, one that lost over a million people fighting for its independence from Spain and then a million more fighting United States. It is a country that is deeply Catholic and yet a much more peaceful Catholicism, to whom, like to most Asians, Jews are a respected hard working and learned people rather than Christ killers as they were South America and Europe.
    Through out history, Philippines, un-beknowst to most Jews was a safe haven for Hebrew people. Once when they escaped Spain's Inquisition and again when a wealthy Jew and friend of the President of Philippines convinced the President to allow refugees from Germany. Only 1,200 of original 50,000 managed to make it by the time US allowed  Philippines to issue 3,000 visas (US was not allowing Jewish refugees to any other territory at the time.) Those 1,200 were responsible for saving the original Jewish population later when Japanese conquered the island and labeled the new German Jewish arrivals as the friendlies misunderstanding for the reason why they were there.
    When US reconquered the islands, somehow, the old Synagogue was blown up but a new one was built  and a new community rose up from the ashes of the old.
After creation of Israel, many left. Simon, whom I spoke with, went to Israel and came back while his kids went back to live in Tel Aviv. Many mixed families began to create a home for themselves while honoring old traditions. A new synagogue was built where a desk was donated by the United States Consul. They formed a school and every morning, a minion of ten men occurs where they pray as Jews did many years ago.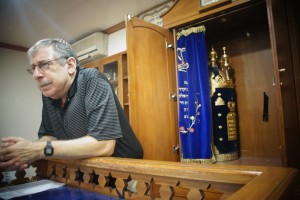 After the morning prayer, when the talits and tfilins are put away, men sit at a long table as men do in synagogues across the world and have mix of Filipino, Sephardi and Ashkenazim cooking that Filipino cooks make in the Kosher kitchen where the Rabbi slaughters chickens according with the law.
It is a small community, but it grows as the Chabad Rabbi walks the streets, Jews come out of the woodwork and say hello to him and later show up at his white stucco Chabad house doorstep for Shabbat dinners. The Rebe said to him to go to Philippines and he showed up and where Jews too shy to walk with kippa, they see him in his black suit and feel a tinge of homeland in a foreign place where shacks pockmark areas around super sized malls inside which non-Filipinos are rarely seen. There, in the foreign land, they see a familiar hat and so they say hello and come back to the ways of life of their great-parents. Manila is a big place, but it is a warm place where  being Jewish isn't a big deal.