There's a part of Buenos Aires, where kipas, wigs and black hats are as ubiquitous as mate cups and thermoses.
Once is the original area where Jews settled in early 20th century and as Orthodox Judaism takes stronger and stronger hold, the visual presence of Jews in Once is becoming felt more and more. In an area of less than one square kilometer, one can find a plethora of kosher shops, synagogues ranging from Orthodox Syrian to Reform and many many Jewish schools and organizations as well as a district of wholesale markets that may have been the original draw.
It was here that I picked out a kosher parilla (pronounced parisha), a sort of Argentinian BBQ and a kosher sushi restaurant. After taking some pictures at the restaurant, where the butcher, after seeing me aim my camera at him, promptly picked the log of meat off the rusty ice box and proceeded to cut it on a cutting board instead. Afterwards I had a coffee while people watching in the middle of a busy intersection. As I walked along the busy streets full of Jews running to make final preparations for Shabat, I noticed the kosher Sushi restaurant. I am a shy person with strangers by nature, it takes a bit of a "umph" to force myself to go into a place and talk, and even more so to do so about what I do. Maybe there is a hustle that I feel sometimes. In a way I rationalize it by saying that when I have that "umph" it is because it is the right place and the right time.
I had that umph this time and as I entered the red walled restaurant, Michel was busy taking calls at the end of the lunch rush hour. Used plates and cups still sat on the black soy sauce soaked tables. He took a look at my pictures and with a quick and slightly accented English agreed to my request to take pictures.
"Free advertising!" were his words. But first, while the waiters made his restaurant presentable for the camera, he took me to his mother's "Kukish" bakery across the street. There, his teenage sister dolled up in the mirror for a family portrait and as a slow stream of pre-shabbat shoppers came in for their Chalah, I took pictures of the delicacies lining the walls.
As I finished taking pictures, Michel was about to take me back to his restaurant, when a silver haired man with a mustache and goatee walked in wearing a winter coat. Michel introduced him to me as a Chilean Jew by the name of Miguel Stuermann, a radio host of a show on Jewish radio station Radio Jai. Michel told Miguel of my project, and Miguel said he'd like me to come in to his show and gave me his card. I took the card and half excited left to take pictures of Michel's sushi restaurant, half believing about what just happened.
Well, a week later, I ran into Michel at the Kosher Buenos Aires fair and a day later I did the show with Miguel. Having guts works.
You can listen to the interview on Radio Jai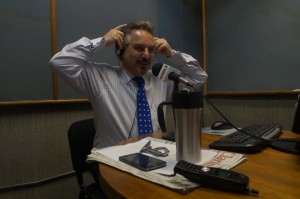 Miguel Mikki Stuermann putting on his headphones. In front of him his coffee (not Mate), phone, watch and newspaper. Two TV monitors show two news channels all the time.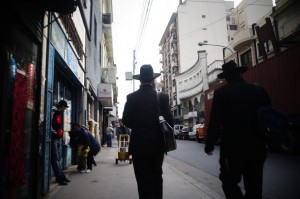 Hasidic Jews walking in Once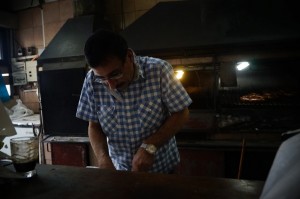 Kosher Parilla chef cutting steak to grill.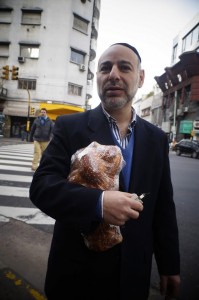 Once resident walking home with Chalah
Michel, his sister and mom.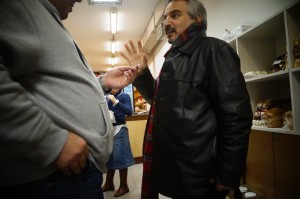 Mikki and Michel
Michel at his Sushi restaurant.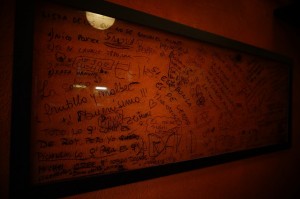 Writings on glass in the Kosher Sushi shop.