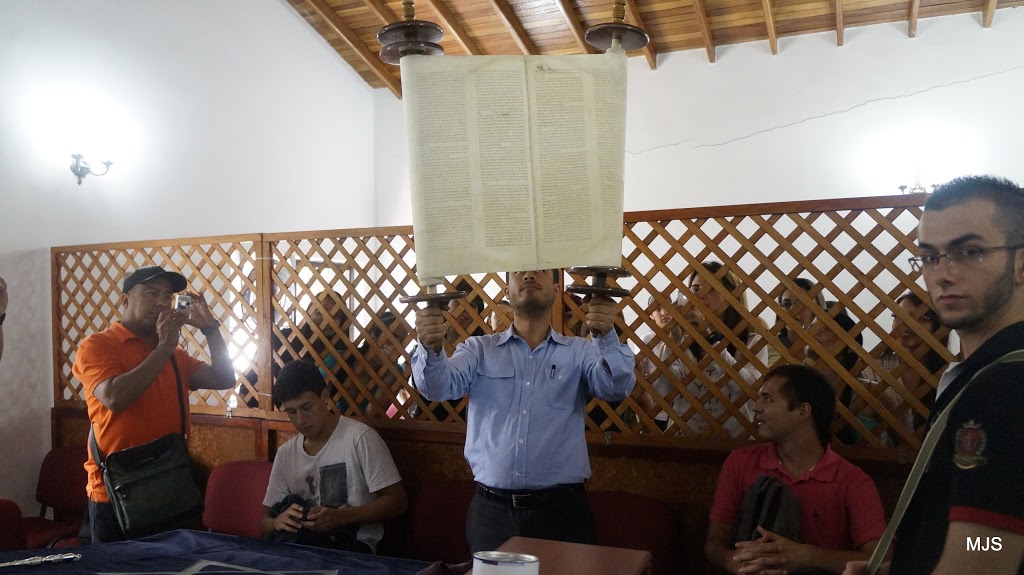 Asaf holds up the Torah Scroll close to the female section so that the students from the University can have a close look.
I could say that Colombia is the epitome of Zen Buddhism. It is a country ravaged by US drug war and US war on Communism, scavenged by imperialism and Spanish Colonialism and even shredded by domestic terrorism and in spite of it all, its people have come through with calm, tranquility and happiness.
Colombia is named for Colombus, and maybe my favorite country in the world. Lush, green, mountainous, diverse. Bogota with its busy capital feel, Medellin rich in color of red brick and green mountains and beautiful women, Cali with its salsa and Cartajena with the colonial buildings and beaches. But it is not the landscape that makes a country, for same landscapes can be found across the world. It is the people that make the country and the situation they create inside the country.
Colombia is a quickly developing place, with giant malls, easy transportation system, a mix of high rises and small old buildings. It is a mix of good and bad roads, it is black people, white people, mixed people and most importantly it is nice and kind people. Asking for directions often translates into a family meal and family meal into invitation to stay the night. It should not have been surprising that this hospitality and desire to help would wear off on the Jewish people that arrived here around the time of the war.
Unlike other places, a few emails about a visit had me welcomed in Synagogues. In Medellin and Bogota, a few words and I had contacts to anyone I wanted to speak with- night and day compared to so many other places where I'd have to show up for lack of email response.
Hilda Demner, a screenwriter and TV personality turned External Relations of the Jewish community of Bogota, had me at her dinner table my first night in Bogota. Her father fled Austria in the thirties, having lived in the same house where Hitler used to live. She convinced me to stay another night in Colombia and next morning she had me meet at the conservative synagogue and then took me with her "private" cab driver Jaime to the camouflaged Ashkenazi synagogues with their simple modern look, the lavish Sephardi with synagogue of white Jerusalem stone, stained glass and finally the congregation with a giant dome, concrete walls and columns where Bogota Jews would come together for high holidays as if to the temple in Jerusalem. There, booths for guards still stand, a sign of turbulent times of Escobar when the synagogue was bombed.
As Hilda explained, things are still not quiet so easy, most Colombians don't care about religion but there is still age old resentment towards Jews that succeed in a country of largely poor. And while Jews succeed work together here it is little known that Jewish schools are open to non-jews and that much poverty alleviation comes from the Jewish community.
Jewish ways are little known as in many other places. My host and her friends had no idea of the existence of synagogues or cemeteries. In center of Bogota, in Bario Ingles is a triangle block taken up by a cemetery. It takes time to find it in the serpentine of confusing streets where even Google maps can't help, but when you tell locals you are looking for the Cementario de Judios, they will help as if helping an old friend. Around the synagogue, there are still some relics of an older Jewish habitation from times of the war. The cemetery is closed to visitors as it is closed to new entrants, but it is a recognized national monument. Before getting to the cemetery, some of the old live in and home where they can have kosher meals and shabbat. Sometimes kids come and spend time with old. After the old pass on, there are two new cemeteries in the north part of town where most of the Jewish community moved.
In Medellin, one of the largest and most metropolitan cities in South America, the bombings and kidnappings of the nineties had taken their toll. An eighty year old synagogue is now half empty, renting out the main hall to catering companies. Poblado neighborhood nearby is no longer dangerous but most of the Jews have fled the insecurity. A Jewish home with a giant star of David made of bricks in driveway, serves as a hostel for travelers today. Paul Heller, the Chazan with a beautiful voice sang on the day of the Shoah (Holocaust) and helped me get contacts for the Jewish community as we drank coffee, ate arepas (small bread pancakes) and eggs and sipped black label whiskey in the morning. Even he was moving, leaving Medellin for London. But not all are leaving: he told me of the Jewish community down in the valley, on the other side of town, where a small miracle happened. There a successful preacher of 3000 evangelicals left for a workshop to Israel for a week and came back a changed man. After coming back he sat down with every family and told them that he would now be a Messianic Jew, or a Jew for Jesus. People couldn't believe it and left him in droves. All but 200 people left and with those 200 people, he built a community. But he did not feel right and so, they realized that they must convert to Orthodox Judaism. Those 200, felt that this was the right thing to do and those 200 soon began to find out from mothers and grandmothers, of their old Sephardic Jewish roots; not surprising in a city where as high as 14% of males have a tie to the Coehn bloodline.
Inside the white synagogue on a residential street, a young man, Asaf, owner of transportation business, showed me around their modest community space. Two small community rooms with a kitchen bellow, a small library on second story and a small prayer room big enough for 50, sectioned off for women and men. A large yard can be seen from the prayer space where a large prayer hall will soon be built to join the building. In a small neat office is a picture of the soon to be Rabbi and other rabbis, a Krav Maga certificate and a round window as if the building was built for a synagogue. At the synagogue they were converted by Ashkenaz and Sephardim Rabbis, there they learned Torah and Hebrew, there they are ordaining two Rabbis, the first Colombian Rabbis. At the synagogue they teach anyone who wants to know about Judaism and there in front of me Karen, wife of the Rabbi passionately explained the Jewish way of life to a University class from the religious studies department. It is Colombian spirit to care for fellow Jew, and the do for Jews from Cuba, Venezuela, Peru and Brazil. It is this warm and unassuming nature that breathes Colombian spirit, in spite of everything that's happened to this country, they never loose their warmth, kindness and humanity.
Send us stories and to find out more see:
http://kantorer.com/
and cjantioquia.org