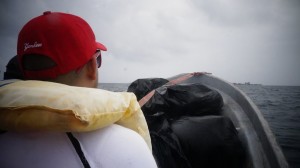 Heading for San Blas
By this point, I'm so used to disasters getting from place to place that I meet them with a sort of expectations. Kind of like, of course the captain would back out or of course the cab doesn't know where to go. It is when things go smoothly that I am scared.
    This was not the case here . It was Tuesday in Panama City and I had a boat ready with help of Carla from hostel Luna's Castle. The captain of 50′ boat Spray would let me work my way to Colombia. I found five people for him but April 4th, a day before leaving and the captain did not instill confidence in the gang of Irish lads and so they chose another boat and I no longer had a ship. Without a way to get to Colombia, by chance I was told of a few Spaniards playing ping pong about their next day trip via motor launcha across the gap. They said they would leave early morning at 4:30 but when I went to sign up for the taxi Kevin, a gay, buff guy working at the front desk assured me to come at 5:30.
    I should have gone to bed early of course, but Ben, the photographer from San Diego and Jennifer who happened to be a Jewish-Panamanian living in Colon invited me to Film Festival after party. Five minutes at the party around women in sexy dresses with plastic surgery boobs and old men buying them drinks in return for attention and I was done. I decided on a nice end to an evening at a kareoke bar with Letty, my couchsurfing host. She's a petite Honduran runner and super nice; even provided me with a key and full use of her place and even bought every type of Panamanian beer for my first night.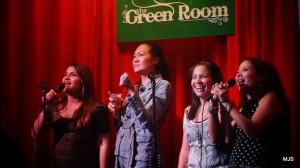 Letty is on the right.
Around eleven, I took a cab to Panama City and after driving around aimlessly looking for Ha-de with the confused cab driver, I  found the bar by pure chance as we passed it driving full speed. The bar's name was Jade.
Lety, my Couchsurfing host was there with her friends for Kareoke. They wanted me to sing and I wanted to as well but I kept saying no to build up the tension. Finally I got up and sang Hotel Caliornia. Up after me was the world kareoke champion. We knew that because there was a giant sign next to stage with his picture and congratulations on his win. I was hoping for a nice quiet ride home but it was 2am we were back at Bingo 90 near the Panama City Chabad for some late night soup.
I woke up at 5:15 and found a cab at 5:30. I was at the hostel at 5:45 to find out that the Spaniards left ten minutes before which I should have expected, I know well enough to not trust minimum wage workers. At this point I figured I would go to the Synagogue again and I should have done that but with my luck, there was another Jeep and once I explained everything to a Chinese lady running the shady Lam Tours (I'm guessing Mrs. Lam) they put me in another Jeep in between an Israeli and a Panamanian Jewess: Paula. We talked about her life in Colombia, Israel and Panama. She's of Aleppo father and Istanbul mother and her Aunt believes that one isn't Jewish unless they are from Aleppo. As we talked, her Israeli friend complained of his seat, that there wasn't enough room. Not my idea of a tough Israeli soldier (later I would hear that many in the area believe that Israelis are the scourge of Central and South America, by the fact that so many run around the world behaving as if they owned it, mostly because like Americans, most leave Israel not because they love to travel but because it is a culture of travel and so they are weird if they don't which means that too many go who do not make the best impression.)
    After driving through the mountains and jungles of Panama, we arrived at tiny village on the edge of mangroves and as everyone got into the launchas heading for San Blas, I got back in the car and grabbed my things from another car loosing my nice shirt and my all time favorite mountain hardware jacket in the process.
     We drove up to a tiny wooden dock at the edge of a jungle and the sea where passengers awaited me for the past two hours. Mrs. Lam said she would ask the captain to wait for me but that I shouldn't bank on it. I wasn't and anticipated sleeping on an island until the next run but he waited, two hours. This decision meant that we wouldn't get to the border on time making everyone on the boat really happy with me.
       We set off in the tiny 15 seat boat across the open ocean. We were in luck as soon as we got out of Panama and into the San Blas islands, water became calm and aquamarine, skies blue and sun bright and powerful. I should have begun to be worried.
Our tiny boat with giant engines sped swiftly along the palm tree covered islands and we hopped from island to island filling-up gas and exploring the island villages and their inhabitants.  Somewhere on those islands, beautiful Israeli girls lay tanning while we were rushing to Colombia.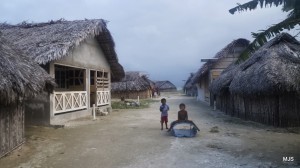 About four hours into the journey, I noticed every once in a while we'd have to fix the engine, slapping the open ocean waves seemed de-calibrate the carburetor.
We stopped on an island to refuel, there we used restrooms or out houses on stilts, with a toilet seat over an opening to beautiful water that we spoiled one by one. There was a basketball game going on between two island teams. An Asian man came up to me speaking English with a bit of accent asking me who we were. He was from New York, working as a missionary with the Kuna people. As teenagers ran on the blistering hot pavement barefoot throwing three pointers and layups, he told me about their school, hospital and of course, bible study. I left some snacks for the little girls posing for our cameras on the pier as we set off for the next island.
      An hour later that fateful motor broke, we floundered with one motor and worried faces over took the stern looks of the captains. After an hour or so, we slowly reached another Kuna island. There, Pablo a tattooed and pierced Spaniard and I wandered through the village where only young kids and old people seemed to live. They had a school out of bricks and a couple stores but mostly it was just sixty or so little straw huts bunched closely together separated by a few streets with happy kids playing everywhere.
   With the motor fixed and about to head out, a four backpackers wanted to hitchhike with us. They had been in the islands for five days and were sick of it entirely. David, a tall skinny American with a pony tail and business cards that say: "Certified non creeper" threw a fit over our prospect of safe return with too many people and we saw them looking sad, dirty, disheveled and disappointed on the dock as we motored off.
      As we made our way out of San Blas, dark clouds overtook the sun and rain began to fall, waters swelled and sun disappeared behind mountains. Our the little launcha swerved, hit waves and slid around, moments from capsizing. I held to my things tight, thinking of the hard drive in my backpack I would certainly loose asking myself why I was risking my life again. At that moment I went to my happy place and started listing my various adventures and past lovers to keep my mind from going to stressful places.
As the last twilight moments of the day began to sneak away we rounded a bay of the frontier Panama town in the Darrien. We hit the ground, elated beyond words to get off the launcha safely and gave our passports to the border guards.
     We found a little Pension hostel in the town where I had a dorm room to myself for five dollars. It smelled of anti roach spray and shared all the noises with eight Panamanians on the other side of the wall. The Spaniards came to get me for dinner at a restaurant next door. The hostess, a portly lady made us a huge fried fish dinner. There was a lot to be happy for as we discussed our narrow escape and how we certainly would not be there with all our things had David not spoken up.
At seven thirty I was drinking coffee in a tiny restaurant in the tiny town with one of the passengers, a large black jovial Panamanian. He laughed the entire frightful way. He said he was working in Colombia as a fisherman, we picked him up on one of the islands. He was kind and paid for my coffee and at eight we all met at immigration where we were told of the two passport copies we'd need to get stamped. Copy place opened in an hour and our boat left Carpugana at eight anyway. We waited patiently and made copies fighting in line with the hitch hiking kids from the Kuna village who arrived in the morning. I was the last one, as one of the passengers was detained; the black happy Panamanian who paid for my coffee. Who knows what he actually did for a living…
   That morning the weather was not like the day before, the ride was choppy as rain sprinkled but we felt far more secure and with the boat balanced and lighter, we made it without incident into the far more attractive town of Capurgana in Colombia, on a new continent.
      Arriving in Capurgana, officials seemed to be disinterested in us. The immigration office was closed due to a "power cut" and for six bucks we got a hostel across the street from the office and down the street from the back and the dock. I walked down towards the waterfront where a man at a tiny bar on the bay front street next to the office to buy tickets to Turbo invited me to sit down for a beer. He told me to change my money with Samuel at the launcha ticket office and with a beer in hand, I sat down next to him.
"We're stuck here because of the power cut." I told him.
"No you're not, they have a generator. They'll turn it on when the launcha from Turbo comes in."
"See that boat," he pointed to a junk being unloaded on the pier "it's our life line. My fences for my hostel are on it. They check the passenger boats but they don't check the supply boats."
At that point we were joined by my friends from Spain.
"Is it cocaine on there?" Asked Sergio the grey haired SCUBA instructor.
"I'd be quiet about it, it's too true. See those cement bags?"
"Why are you here?" I asked.
"I got away from Bushland. When Bush was re-elected, I left." I think a lot of Americans did and even more wished they had. Although, I'm not sure this place is much better. He told me that left wing FARC was the least of his worries, it's the paramilitary that worries him and I can see why. They are US funded and responsible for 80% of killings, kidnappings and drug trade.
     As the launcha came in, the immigration office opened. We went there and the dark sweaty guard told us the generator would be on at 12:30. I went back at 12:30 and the generator was on, the guard was sitting next to a dark black girl eating fish. He went to get me a stamp and I told him to keep eating as I was waiting for my friends. I went to grab my friends and Joey laughed: "Now you won't get a stamp, should have gotten it when you had the chance."
I went back to the office with friends, Joey was right. "Dos e media, no Doze Media" (two thirty, not twelve thirty) Never say no to a public official who is ready to help you was my lesson.
      It was time for lunch and for five dollars you can get a large meal with fish, rice, soup and avocado and a cat begging next to you. I took a little nap, four beers in the morning is a lot but there was nothing else to do there.
     I woke up at 2:20 and walked down to the migration office. I was first one there and it was closed. The guard ran over from the restaurant next door pointing to the second story. Within a couple minutes a line formed and a large olive skinned man with short hair and wearing a whitebeader walked down from the second story. He sat down behind the computer and without looking at me, took my passport, scanned it signed it and I was now officially in Colombia. As I looked at him sweaty, who knows, probably from having sex with a hooker, working for half an hour for the day, situation was like a movie joke.
      I walked out calmly but with hidden gleeful joy and headed straight for the ticket office. I got one of the last tickets for the 7am launcha, expecting problems and wanting possibility of taking the 8am. I then walked along the beach where nice little hotels dotted the beachfront alongside restaurant and bar shacks and vendors of cheap jewelry  There was a bar on the water where the owner of my hostel sat with his feet up as little girls sat on rails and jumped into water. The feeling of Dangrega Belize I had in the border town in Panama returned to Capurgana. A Caribian town is a Caribian town. The Swiss owner told me to submit some pics on the hostel site for a photo competition and advised I walk to the Devil pools run by a Rasta.    Forty-five minute walk through the jungle reminded me of trailblazing in Trindade, Brazil, I wished I wasn't alone after hearing of hikers being shot in these jungles but alone time is good as well. I walked along a pebble beach littered with trash and washed up flip-flops, and arrived at the little shack with the Rasta. The Rasta had short hair and looked Latin and spoke virtually no English and a Spanish I couldn't understand. He made me coffee after my swim in the freshwater infinity pool overlooking the ocean. It was the best coffee I ever had, must be the canella. The water was cool and my red sunburned arms from the launcha trip felt glorious as I sank into the cold water. I climbed down to the saltwater pool where huge rocks blocked off the waves that crashed into them and spilled over into the pool. The sky turned dark grey again and I made it back to Capurgana in half the time. Back at the town, sweaty, and before getting to the hostel, I jumped into the azure water again.
At the hostel there was a rumor spread by the Irish of  50 cent beers near the futbol/airport field where a game was going on. I joined the Spaniards who did not find the beer because no matter what the Irish say, it's a standard 2000 pesos (1 dollar) per beer in this town that I call an island,  completely isolated by water and jungle. After the game, where 22 people fought each other to get a ball into one of the two goals, I walked back towards the hostel. Across the street, Joey sat and we shot the shit for another three beers. He claimed he had to go or his Colombian wife would cut his balls off, but I told him his balls is what she needs most.
    As we sat there, a drunk guy came over and gave us shots of Aguardiente, my first in Colombia. "That's your captain tomorrow." Joey said.
"Does he always drink like this?"  I asked.
"Sure"
"Well then I'm glad he's drinking, I'd hate for him to break the routine,"
  Next to the captain was another guy in a yellow shirt. Supposedly the partially American funded paramilitary bribed his way out of a Puerto Rican prison for drug running, to do more drug running or aka fundraising.
Some would be worried trusting their life to a drunk drug-running captain. But I trust the captain, if he can bring 1000 kilo at night from Turbo going against the waves, he can get me to Turbo hung-over. I hung out some more with the stragglers from the Kuna village, my leg grazing the leg of the Austrian girl, and the Irish guy Shane doing coke and drinking beer looked more and more like a tweeker with every line. An Israeli couple came up and asked to do a book trade. I said I have a Russian book trying to make a joke, but the joke failed when the couple turned out to be Russian. After a successful book trade there wasn't much to do besides going out to drink more.
     We went to a "club" and had a few beers I kept thinking that for travelers without money these drifters sure spent a lot. We sat and watched locals grind on the dark dance floor. Irish Shane tried to buy more coke after the girls left but the guy selling had done two thirds of the supply and tried to sell leftovers for the original price. Shane said no even though the guy had a broken bottle in his hand.  It's never a good experience with drugs in Colombia, or anywhere else for that matter.
      I passed out in my bed and slept like crap, waking up every fifteen minutes afraid to miss the boat. I got to the dock and met a Russian couple I met the night before. They were getting ready for the launcha I took to Colombia. They would pay a dodgy Italian double of what I paid for the same trip but with worse weather and going against the waves. I hoped the best for them. My launcha was ready for boarding and everyone got on except me. It looked like I would be going at eight after all, when the co-captain freed his seat and I got the best seat on the boat next to the captain.
We took off swiftly into the chop, people waving as we sped off and a little dog looking at us longingly, ominously from the edge of the dock.
      We were making great time, rounding the coast line. Mountain ridges in the fog one after the other, Darrien jungle passing us by. We made a sharp turn into the open sea heading for strip of land far away and then entered the river delta where water turned putrid brown, choppy and unsalted. There were strange plants floating all over and we lost sight of land. A perfect place for the engine to suddenly fail. The captain had that familiar worried sound to his voice as he talked to the co-captain who was trying to get the engines going. We were out of gas. Again.. One tank for one motor and barely going. We slowed down to a crawl. They tried making phone calls without luck. There was no radio on board. Everything was wet.
     A boat going the other way slowed down but unable to do anything, kept going. A boat going our way grabbed two passengers to lighten the load. A coast guard boat approached but the captain made no sound. The passengers flagged the coast guard down and the captain wasn't pleased, my guess was he had something to hide. The coast guard had no gas and seemed helpless and only agitated the captain. Then, a small boat approached and the co-captain jumped onto it with a hose and siphoned off a blue jug of gas. He got the jug onto the front of the boat and passed it to the back over the packed seats. He plugged in the hose and we sped off on two motors accompanied by the coast guard.
Within five minutes we were at the coast guard station at the entrance of a channel into Turbo. There we stood and waited for the shady captain to get "cleared". An officer came on the boat and the Colombian passengers began to yell at him in defense of the captain for fear of being even more delayed and stranded. At this point the eight o'clock boat from Capurgana now caught up and we were allowed to go about the same time.
Still accompanied by coast guard, we reached the putrid and disgusting waters of Turbo. Joey was right again, Turbo was indeed a hate at first sight. A smell of something dead filled the air. The waters, black like soot, bordered by broken boats on both banks and dilapidated shacks with bathroom on stilts protruding from rotting houses. Seeing a town so dirty made me realize what Houseman realized in Paris: to have clean water we don't need filters on the way in but on the way out.  The streets were full of motorcycles and as we got to the dock, there was no space for us as it was filled by the commission runners, kids who would walk with us to the bus and get commission from the bus driver. They did help us get an ATM and flagged down the bus to Medellin. I was happy to pay the driver 30 instead of 35 that the Bus office wanted: everyone loves corruption when it works in your favor. I fell asleep on the long ride thinking how different everything was in Panama: Turbo is no Bocas Del Torro, Panama is no Panama City and a 6 hour speed boat is not a three day launcha. But I was now in Colombia, back in one of my favorite countries after a four year absence. All will be ok now.