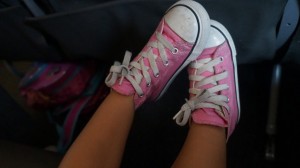 Little pink All-Stars of my neighbor on the plane.
It was supposed to be a short break and it ended up taking the entire winter plus November, four months to deal with content, present my findings, put the house and finances in order so that I could finally leave and continue the trip. It was difficult leaving Kurt's house on the beach and after leaving, I felt lighter and happier and I felt like the trip was beginning. A huge relief overcame me when I was driving down the road, all of my things out of Kurt's. I then had a full week at Brian's to get my things together and in the time I reduced my "luggage" from a small backpack to a tiny backpack: a total of three cary-ons. So off I was to see an old friend in Central Mexico and finally everything was in place, even a small going away party.
I left San Diego in a bus for Tijuana at 1am, at the station I spoke to a Nigerian guard about his work as a professor of religious studies back home where religion is used for politics every day and after a two hour bus ride I walked onto the plane at 7am for direct flight to Tepic in Nayarit.
I was worried until the plane took off. It seemed like the trip had been so delayed, I was worried something might happen and stop me from leaving and indeed, the bus station had been moved but I found out in time to make it there. Then I fell asleep at the airport and was lucky enough to be woken up by an elderly Mexican man in a cowboy hat with a grey handlebar mustache to get on the plane. Finally the plane took off in the twilight hours from Baja California and I woke up as it descended over the light green hills of Nayarit.
I'm excited about Mexico City and I have more of a plan. The plan will be to go through Mexico City and on to Cuba, Dominican Republic, Puerto Rico, Curacao and then South America. It will take me through the converso communities of Inquisition, the Russian pogroms, the Syrian refugees and the new Israeli expats. The stories I hope will be lighter than the old world, spicier than Africa and a little bit less busy than those of Asia.
Should be an exciting adventure finding the Jews of the new world and how they adapted to a place so different from where they began. But that is the story of all the human race, adapt to survive.