#DrivingForYourStory is a trip across country to visit Jewish communities around US. I'll be taking photos and videos. Stay up to date on here to see all the places we see! Follow on Twitter @samthejewishguy and Instagram @seomka08
Big thank you to Ira and John of the Phoenix AutoDriveAway  and Terry Newbrough for helping with this project.  AutoDriveAway connects good drivers with great people who need their car transported helping people like me get to far away places and bring cars across great distances for people like you.
Begin the journey by scrolling to the bottom and read to the top!
To help with this expensive journey, you can share the Amazon Link to Your Story Book or Link people to learn about Our Jewish Story. With gratitude for your comments, help and of course time.
-Sam
Cities in yellow are cities visited, red are those left to visit. Click on a city to see the date of expected arrival.
Photographs will be added later, for now they will be posted here while video logs are here.
Day 25-26 Austin/El Paso/Las Cruces
Las Cruces
I had been to El Paso and now I had an 8 hour drive to San Diego. It would be getting dark in several hours but there was still Las Cruces on the way. As I drive out of Texas and into New Mexico, land of enchantment was an understatement. I seemed to have my finger on the shutter the entire time and when the battery went out, I switched to my iphone photographing the hills and valleys and their interplay with the sun's rays and clouds without end.
Las Cruces made little impact on me last time, but this time, the site of the world's largest chilly pepper (made of plastic) made a distinct impact. It was as if the Hopi indians had never left. It was their architecture imprinted upon the entire city. Everywhere I looked I saw the iconic adobe box homes with wooden beams protruding through the stucco exposing the ceiling rafters holding the homes together. They were made in all shades of the mountains from the red iron ore to the yellows of sand stone.
When I stopped by Las Cruces, a very warm reception was given to me as I was for the first time lead into a conference room and given full attention to describe Phittle rather than a chance to drop off our Info Sheet.
As I left the city I passed by the swollen Rio Grande that seems to float on the desert, giving lush green life on either side. As my finally place to stop, I drove through a cemetery where every grave had a bouquet of flowers, it was like being in tree grove blooming with desert flowers. It was this flowering that made me realize that I am among those who were once living, that I am in a field of the dead and yet I am not scared to be among them one day.
I had a long six hour drive ahead of me. I would drive to Yuma until early morning, sleep a couple hours and enter San Diego with the sun. It was bitter sweet to end a journey of 7000 miles.
This trip didn't go as well as I had hoped. I didn't get to meet rooms full of journalists, I didn't raise hundreds of thousands of dollars and I didn't sell a single book. But I learned a lot about journalism and Judaism of this amazing country. I learned that I knew very little of this country before and I realized that I know very little still but that there is so much to find out. I learned that this country is worth fighting for, that there is a democracy to keep and that there is no democracy without journalists, and that without their work to go out and tell the stories of the amazing people who make this country, without their work to keep those who are given power accountable, we will loose this great enchanting land. And that, is worth fighting for.
El Paso
The road to El Paso changes drastically from a green Africa-like Savanah to sparser and sparser vegetation, and from rolling hills to individual hills separated by fast flat plains. The towns begin to look like those in country western movies, with empty streets and trucks parked in front of a lonely bar or restaurant. The publications I stopped by were either owned by an entity a thousand miles away or no longer existed.
Arriving in El Paso felt like a different city that I happened to drive through four years ago. Large new star-studded freeway overpasses criss-crossed above me. Industry seemed to breathe through the city. The dry heat is less of an impediment to work and thus you felt that this city worked and in the back of my mind, was consistent thought about the violence that marred Ciudad Juarez, the city on the other side of the border.
Mexico was ever present here, the names of most people on the LinkedIn Page of El Paso Times were of Hispanic origin and so were the faces wherever I went. And yet there was a familiarity to the city not unlike that in San Diego.
As I drove on the freeway I passed the Jewish cemetery, I went back and took pictures of the small cemetery in the middle of the city from which the mountains can be clearly seen. Hebrew star of David and American Flag was often engraved into the graves. I stopped by a synagogue not far from El Paso times, the first one in the city. It had long been abandoned by the community, serving as an Eastern Orthodox Church for decades only 20 years after it was built as a brown-bricked synagogue in the fashion of other old buildings around it. Behind the synagogue I noticed another and much larger brown brick building with menorahs fashioned out of brick on each side. I wondered what this building was, possibly a community space long ago as now it was the offices and Student Center for a local community college. Inside was a falling apart ballroom, being renovated but with a fifty foot ceiling, long ceiling high stained glass and Hebrew inscribed windows and an enormous chandelier.
The community clearly moved north a while ago as Jewish communities have all over the country. Temple Mount Sinai in the hills of El Paso had  a beautiful white semi dome, like an upside down 3-D parabola with  half cut off. Built by a Los Angeles architect Sydney Eisenstat. I wasn't able to get an ok to photograph inside but I did read a few articles in the new printed Tablet Magazine and was very impressed. I highly recommend it.
Austin
It was time to head home. The rightful owners of the car needed their legs for San Diego and they had waited long enough. There were two days and 1500 miles standing between me and home, not to mention the synagogues and news organizations on the way. I began to drive to Austin when I heard about the heavy storms. I remembered the storm of New Orleans and apprehension weighed heavy on me. As I drove through the hills the storm clouds grew and grew. I passed the bar-b-qs and car museums. The swampy Houston landscape changed to hills and green plains that reminded me of Gondar in Ethiopia. The ranches lined the highway and long horn cows and milk cows dotted the green landscape. As I neared Austin, vineyards replaced ranches and rain began to pour. The closer I got to downtown the heavier was the rain. At one point I could no longer see and I had to pull of the road and wait it out. I figured this isn't worth it, after all, I had someone else's car to think of. But a lone-star beer later, the clouds disappeared and sun came out. It was past five o'clock but I was less than ten minutes from The Austin American Statesman. What the hell, let's check out I thought. I drove along the river with pink sunset rain clouds reflecting from the high rises on the other end, surrounded by lush greenery of Austin streets. I came to the large buildings of the Statesman, driving past the multitude of trucks parked at loading bays, ready for tomorrow's paper. The paper was started in response to the "radical Reconstruction press" but eventually combined with that "radical press" to become the main paper for the town.
After dropping by the paper, I had a straight shot for San Diego. There were three hours till sun-set and I figured I could drive till eleven or so when I'd get to a camp site in Junction Texas. By the time I got to Junction, it was too late and too wet to set-up camp. I couldn't see where to go or where to set-it up. I tried to sleep near a trailer park but visions of small time Texas town and horror movies flooded my imagination. I'd just about fall asleep only to jump up with an imagined face staring at me through the window until 3am when I finally fell asleep.
At 6 am I popped up with a face staring at me through the window. It was a town sheriff. He  checked my id and said "feel free to sleep in, I now know who you are." It was time to go, I drove out to the swollen river rushing past the town and saw the sun come up. It was time to keep going.
Day 24 Houston
Stephanie needed to fly out of Houston and while we didn't have the time to go to the Space Center, we did have an hour or so to see the "beach". I say the "beach" because we had time to go to the bay in La Porta. La Porta is a industrial town on the bay surrounded by chemical and petroleum plants. Naturally, the majority of those who live there are minorities. At the beach on Memorial day, there was barely a piece of grace and sand open. Kids filled the small patches of man made beach in t-shirts and shorts while the parents cooked on bar-b-q's, propane stoves and full size smokers. We were the only white people on the beach besides the lifeguards. It was as if we were transported to the beaches of Cartagena, Colombia. There was a vibrancy and happiness and raucous sounds of kids that one never hears in San Diego.
Afterwards I took Stephanie to the airport and after our goodbyes I drove over to Eric's house. I met Eric in Argentina during a JDC Entwine trip. He's a big Nacher in the Jewish community and after hanging out at his home with his five-month old newborn Ben, we got into his escalade and drove on a tour of his childhood and synagogues of Jewish Houston. I saw a diverse community that is very low key, not at all ostentatious living in modest homes, attending modest synagogues, and active in a modest JCC which is very concerned with security. All synagogues besides the Reform Center for Judaism were surrounded by impenetrable gates similar to San Diego.
The city itself was similar to San Diego, one is a Republican town that makes a living with the military while the other at one time thrived on oil. Today with prices down it seems to be in a funk exacerbated by more frequent floods that most scientist attribute to the very oil the town produces, but a town that lives thanks to oil, one would not expect to believe that line of reasoning. For now, the floods destroy homes and while some rebuild, raising them above the flood line, many stand empty deceptively well manicured from the outside. Both reminders of man's constant battle with nature, one showing man's loss while the other the persistence to survive and thrive no matter what natural disaster may come.
After the tour we went to Eric's cousin's home. The home was filled with family and friends. I thought it might be awkward that I was an unannounced guest, but no one seemed to flinch, they were kind and asked many questions and as time for the last play off Basketball arrived and Eric packed Benjamin for a ride home, he left me behind to talk for another hour or two as his cousin's fiance, a Bakharan Jew from Tajikistan and I described to the enthralled family the difficulties and life of Jews in Soviet Union.
Next day, thanks to Eric and his mom, I had a ready schedule. After visiting the offices of Houston Chronicle, a large but not at all descript beige building on the outskirts of downtown without any signs of the what exactly they do, I began to make visits around town. First to the sprawling office of the Jewish Herald Voice where I saw the multitude of their awards as I dropped off the book. Then I visited the local synagogues. Beth Israel, a giant white building surrounded by thin columns tapered from the roof like plaster icicles. Beth Israel, being the largest and one Eric attends was happy to take a copy of my book but given the limits of bureaucracy could not permit photography on such short notice. Meanwhile the Messianic synagogue was happy to show me everything including the Word War II recovered Torah scrolls they were gifted and the mix of Jerusalem and Houston stone that made up the floors  of the synagogue. I noticed that there are a lot of messianic synagogues across the south and midwest. I was curious to see and understand it. After all, a lot of Jews seem to go to them. I remembered the Jews for Jesus at my University and figured what the hell.
From the outside, one would not know that this isn't a synagogue. The only hint was that it was very new but situated in the area of town with a non-Jewish population. The dome and color of stone was beige like Jerusalem and large Stars of David adorned the front. The main hall was very Reform Jewish with a flag of Israel and US, two large golden Menorahs and a full band set. The Jewish Rabbi had a thick Texas twang and the ex-Baptists synagogue administrator told me of his first visit to the synagogue and recognition of the beauty of the ancient customs, how they touched him, causing him and his wife to cry with tears streaming down their face week after week.
The congregation had rented space in churches for nearly thirty years until acquiring the sprawling complex where they built their first synagogue that holds two services on shabbat for about 400 members, about 200 of whom were born Jewish.
I ran out of the synagogue as I was late for the JCC appointment where I met a very kind friend of Eric Suzanne and Amy, the book fair coordinator. After a great conversation during which I was called by the Sefardi synagogue and sadly denied ability to photograph, a much more difficult feat around the world in general, I had one more place to stop by: a Southern Publisher's Association. As I drove I passed the Congregation for Reform Judaism. I had been told that the Rabbi loved projects similar to mine, so I made a quick stop and quickly bonded with Rabbi Gross who attended same University as I. He had been with the Synagogue as it expanded and I saw how it was that Jewish community grows as one Rabbi matures under the tutelage of a master Rabbi, becomes a leader and splits as he becomes a leading Rabbi in his own right.
Day 23/24 Baton Rouge
Stephanie flew out to visit me while in New Orleans for the long weekend. We woke up bright and early at Jesse's place and after he made us coffee we drove a half hour to a swamp where a Cajun (means caucasian) boat captain showed us around the swamp and told us of the customs of the French-speaking Cajuns who had been repressed by the English as early as 1960's and 70's as well as the origins of Creole's (colored) which are a mix of black and Indian heritage.
Next was the plantation. Whitney Plantation is a new museum about an hour from New Orleans focusing on slave experience instead of the plantation owner has only been around for about a year. It is a result of a community effort to stop a chemical plant from destroying the century and half old plantation that included the slave quarters and the home perfectly preserved. A lawyer who made his fortune pursuing run-away companies purchased the land and with the help of historians created a one of a kind museum/memorial which resembles Holocaust museums than a run of the mill plantation. There is no sensationalism, there are no un-guided tours, there are qualified tour guides educating small groups every hour on what it was like to be a slave on a sugar-cane plantation. Once you realize that all culture was stripped from the newly arrived slaves, that these men and women from birth and until death had no ownership of their bodies, that the life-expectancy for working the fields was often in the twenties and that they were alive only for the purpose of creating profit for the business men, you realize that this is a site of grave human right abuses, murder and an economic power engine without which United States and the South would not exist. The punishing heat, the non-stop all day long work-load, the cruelty of the masters for any disobedience makes one realize that the survival and resilience of the black Americans is something to be admired and the country owes them gratitude and an apology for the way they were treated, for the theft of their time and the money that their labor created for the owners of plantation and for the country. We are lucky to have them because in spite of all this country has done to them, the black Americans continue to give back through music, art, sports, politics, science and all other areas where their talents shine through like gems polished by the rough waters of hate.
We left the plantation in awe and shaken to the core, realizing just what an insult it is to the black community, the continuation of the dehumanizing policies and treatment that many in our society have towards men and women that have a scar of slavery and emptiness of a history and culture erased.
We drove further west stopping at The Advocate in state capital Baton Rouge where we found an old Jewish cemetery and Lafayette, the city named for a French general who ensured American victory in the Revolutionary War. There we tried Boudin Balls, as un-kosher a food as you can find but as delectable as one can imagine. It's like a gentile knish and it was delicious. We found a small camp-site in Sam Houston Jones Park and fell asleep to a symphony of natural sounds that envelop the swamp and woke up to a fog covering bald cypresses, cleared by the rising sun.
Day 21/22: New Orleans
New Orleans feels a bit like a city that stands still in time. The French Quarter is the heart of the city but the buildings outside the French Quarter are also for the most part old and remain true to the historic nature. Beads hang from street car cables and lush vegetation covers streets and hides condemned buildings. Torrential rains descend on the city one moment creating rivers in the streets that force tourists to wade the deep waters with shoes in hand, and within the hour, the roads will be dry as a whistle as if nothing happened. And that seems the ethos of the city, keep going as if nothing happened.
I had been in the city six years ago, I went to a bar near French quarter where there was once a three legged white boxer. That boxer died a couple years ago but a new one replaced him, brown with a white streak on top of his head. He came to me as if he recognized me.
I went to the bar after Shabbat services at Anshe Sfard. The synagogue is the closest one to downtown. Built by a architect who donated his services free of charge. The synagogue is only a mile from the biggest synagogue in town, the Touro synagogue, but the tiny congregation is in a way far from the large grandiouse beige building. The Brown Brick two story synagogue on a small street is warm and eclectic. It is a place where a Satmar rabbi can find refuge and where I was the tenth man and thus able to make Alija. The Rabbi, as eclectic as the congregation took Q&A until a tenth member showed up to make a minjan. At some point during Torah reading everyone stopped. Rabbi ran out and found a congregant who sneaked out to the bathroom thus making the reading halachicly impure.
After the services, a congregant Jesse Berkson, originally from Wisconsin took us to his small apartment down the street while rain poured on the streets outside and lightning and thunder shook the windows. I've never had someone invite me to stay at their place after meeting at a synagogue, but Jesse offered knowing the difficulty of finding a place to stay at on Memorial Day Saturday.
We left his apartment and navigated the flowing rivers to the National WWII museum, the only museum in United States dedicated to World War II. It was a n impressive three building complex which guided one through the European and Japanese battles and difficulties of soldiers. Given that America had virtually no civilians in the war, it seemed to focus on the battles and military and for the most part leave out Holocaust and civilian casualties of the war. Even Dresden and Tokyo firebombing as well as the nuclear bomb seemed to be rationalized and quickly glanced over as a sad but necessary consequence of war.
Leaving the museum, there were no tears and the city was as dry as my cheeks, dried by the tropical sun. We made our way to Frenchman street devouring crawfish as if they were Kosher.
We still couldn't find a place to stay and thus fate was there clearly taking care of us with the option to stay with Jesse. We made it back to stay with the Wisconsin New Orlenian on his brand new blow up mattress after a long chat about everything from Chabadnicks to Politics late into the night even though we needed to wake up bright and early.
I did stop by a few publishers while in New Orleans. The New Orleans Tribune housed in a small building across the street from Degas museum. The Times-Picayune (small trivial coin) was on the top floor of a high rise on Canal street with the view of the city while the New Orleans Advocate was also in downtown but in a small office while the larger offices and printing presses are far away in Baton Rouge.
You can read more here about the surprising history of Jews in New Orleans including their notable contributions, a Jew as the first Mardi Gras king and expulsions and repressions.
Day 20: Atlanta, Birmingham, Tuscaloosa
Tuscaloosa
Tuscaloosa is a short drive from Birmingham but what it lacks in large buildings it makes up for in spirit. The people of Alabama go crazy for UofA Football. In fact the stadium is smack in the middle of town and is like a giant spaceship, ten minutes from Hillel and temple Emmanu-el Which face each-other right next to several campus churches.
I had been to Tuscaloosa four years ago as I drove to New York and while it seems that it is still split between white privilege and black poverty, the lines are blurred as I visited a Starbucks and stopped by a bar for dinner where black kids and white kids mingled, danced, and enjoyed each-others' companies.
It is clear that the two cultures are distinctly different in the South, but I have great hope that a more prosperous and successful co-existence is not far off.
Birmingham
Birmingham was very different from what I imagined. There were tall buildings, historic buildings, boarded up buildings and nice sub-urbs. You cross the tracks and you leave the largely poor and black downtown for the nice homes on a hill where white people reside. You realize that lack of taxation has left the largely black community without education and jobs while the white community prospered. This city seemed so quiet, tranquil and nice and yet the stain of blight in downtown and realization that it could be so much better pressed upon me.
The building of the Birmingham Media Group was not far from city hall but on the side of downtown. It was reminiscent of a start-up rather a long established paper. The site of their presses was a building both interesting and sad. Interesting architecture that reminded me of Gherry and Escher and sad as it seemed lonely and in disrepair. I imagined this place was something else a few decades ago and had very brave reporters at the time.
The Jewish community was brave as well. Their temple is very visible, the conservative congregation is up on a hill in a large beige or white Jerusalem stone building with a beautiful ark and a hall with pews that can fit 1000 congregants and often do.
This temple actually has people pray there so I joined a minyan for minja in the evening who counted women as part of the service and were kind and nice to me, inviting me to come back. Rabbi did as well, I felt the hospitality, although during civil rights it may have been different as the synagogue was saved from bombing by rain when a lit dynamite stick was found by the building, put out by the grace of God. The same city that lost two innocent black girls in a church bombing could have lost more.
Atlanta, GA
The drive to Atlanta leads through the Appalachian and Smoky Mountains of North and South Carolina. Tall trees line both sides of the freeway as it serpentines through the lush forests going up and down in the hills passing through large lakes and over streams and rivers. An hour before getting into Atlanta, I stopped and camped in a small camp site on the bank of Lake Hartwell. I woke with the sun seeing steam rise from the warm water as geese and ducks swam along the calm mirror lake and sun cast a yellow band over a lake that was only a few minutes ago reflected the moon. It was a quiet with a constant sound of birds, similar to that of an early morning Mississippi in Chicago which seems so long ago even if it happened only a week or so ago.
I arrived in Atlanta and set out to find the News publishers. I quickly realized that this town was all about the TV and did not care much for the paper. I went from one closed or moved office to another, leaving a brochure with the Daily Tribune in downtown after which I spent an hour looking for other papers without success.
It was time to head to Alabama but not before I stopped by THE TEMPLE. The Temple is a a red bricked and white dome temple which was one of the first congregations in the area (something I'm told at every temple). This one is quiet striking with columns behind the beemah, white marble, gold torah ark and intricately carved in plaster figurines in the dome. The beauty of the building competes with one thing: the history of this place.
The  kind Temple administrator who was born in Sweden told me that the congregation includes a very famous or should be famous man: Leo Frank. Leo Frank was a young Cornel educated and NY raised man who moved to Atlanta to work as a manager at a factory. It was another bout of anti-semitism in the South and he was accused and convicted of murder of a 14-year-old girl at the factory. No evidence was ever found and he maintained his innocence. The mayor commuted his death sentence to life in prison but the population lynched him anyway out of anger. His wife never remarried and a year after she died, in 1958 the Temple was Bombed by KKK.
The Temple was bombed because the Rabbi spoke out against segregation. The Atlanta Journal-Constitution editor won a Pulitzer for his response to the bombing. In spite of all the violence during civil rights, few Jews know of these two events. Possibly because by luck or divine intervention, an empty classroom was bombed thus not hurting children or the Temple.
Having learned the history it was time to pack up and go.
Day 19: Richmond, Durham,
Durham, NC
Drive to Durham from Richmond was quick and easy. The town is quiet and pleasant. There are BBQ and Coffee joints with people sitting outside enjoying the warm weather. Downtown is predominantly African-American while suburbs are very white. The downtown was actually called The Black Wall Street due to the high number of successful businesses owned by black Carolinians in Durham.
The News Media in town is split between Triangle Tribune whose offices are in Raleigh and Durham Herald which is maybe fifteen minutes from downtown in an office building. Doors were shut by five which meant that I had nothing to do other than try and find the synagogue in town.
There are four synagogues in Durham, a conservative with an orthodox schul underneath, a reform and two messianic synagogues. The conservative has clean beautiful lines making the two story building look like a part of the hill it sits upon. The administrators were two kind and funny ladies and a husband of the other. They consistently took turns joking, especially about Duke. While one of the ladies was originally from San Diego (seems like a lot of people were once in San Diego) they had become Carolinians and that apparently means picking Univeristy of North Carolina Tarheels or the wealthier Duke Devils. Give that the gentleman administrator had worked as a professor at UNC, everyone was in agreement that UNC is the better school on account of being the first State funded University in the country.
It's wonderful to see how Jewish community seems to pick up on all things important to a community.
Day 17-18: Baltimore,Washington DC
Washington DC
I arrived in DC late at night as rain pounded on the car after I picked it up in Philly following a 5 hour arduous journey involving trains, buses and long walks. Due to heavy traffic I passed through Delaware. A strange small state that is a peninsula on the side of Maryland with large tracts of farmland, forests and waterways. I went up a gigantic bridge spanning the large bay between Delaware and Maryland and entered DC.
I picked up my friend Sparsh and then my sister and we grabbed amazingly good pizza nearby after walking past multiple embassies which are near my sister's apartment. We discussed my trip over beers and pizza but soon it was time to sleep and I woke up in an apartment overlooking an old cemetery for African-Americans of DC. Sadly, the area was closed to them until the nineties, so the only way for them to get into this area for over a hundred years was via a casket.
I stopped by Washington Post and Washington Examiner offices. Washington Post is inside a modern building with a semi tower. It is near the White House and hidden behind trees. Inside the hall is minimalist, lined with grey marble which made me feel as if I was part of the newspaper. There's a large screen with the day's paper and a sign that backlights the beautiful gothic script of  the name of the paper.  The Examiner was down the road in a large office building. I was happy to meet a friendly representative, which was a big change compared to other places.  Lastly I stopped by National Endowment for Democracy office, a non-governmental organizations that funds various projects that seek to establish democracy in undemocratic areas of the world. I grabbed an espresso and a popsicle with my sister from the same place that Obama had visited. I made sure to get the same flavor he had tried: Strawberry Ginger. At least my buds tasted same taste he had. I know that's weird but in a sense it is cool. The place is frequented by all sorts of people, I saw two older gentlemen walking out of there wearing suits and sharing a popsicle. Now that's funny.
Afterwards I stopped by the downtown Synagogue. A beautiful building with a large dome and star of David above it as well as arched stone facade near downtown. It wasn't as imposing as other churches and buildings in the area, but it was beautiful nonetheless. As I took pictures, a black policeman approached me waring a bullet proof vest. He knew all the information on the Rabbi and was kind enough to take a book to give to her.  It was time to head back north.
Richmond VA, 
I arrived in Richmond Virginia at 9pm and for the next hour and a half I tried to decide to stay or go. Something wouldn't let me continue, something made me stay. Finally I parked the car and wandered around from place to place. One was a metal bar where everyone was pierced and tattooed. Another had skulls hanging, a casket and professional wrestling playing, another was a bar with loud rap music down an alley and finally the fourth, a firefighter bar with a couple chill bartenders, a chopped up firetruck and Sam Adams cut-out and a diverse crowd inside. I grabbed a beer and these two bar-tenders became my history guides.
Gene and his coworker began telling me how the town was burned down by Sherman, how it was spotted by John Smith in early 1600's, how it was the site of slave trade and the capital of the Confederacy. What's more, Gene told me that it had the best Holocaust Museum.
What? Richmond? Holocaust Museum? I had to see this.
The Museum is in an old red brick warehouse. It was built by a holocaust survivor who was a child and escaped a Polish ghetto with his parents and lived out ten weeks of end of war under ground in a dug out cave and fed by Polish peasants. The building stands next to the infamous Libby prison. The prison during civil war was an American concentration camp where Union soldiers were kept in conditions no better than the Jews held by Germans, but that's another story.
The museum was part historical pictures and descriptions, part diorama. All parts of the Holocaust explained through built out sets from the train cart to the concentration camp beds and dummies. It speaks of the difficulty Jews had creating a state and getting out of Germany due to American lack of desire for Jewish immigrants. The only thing not mentioned was the concentration camps created by General Patton who kept Jews in conditions no better than kept by Germans due to anti-semitic sentiment as well as leaving out the number of Germans killed who were anti-Nazi.
Afterwards I ventured out of the black Richmond into the white Richmond near the University. There is where the grandiose synagogue stands. Moved several times since it's founding, the building with beautiful frescos and stained glass and a huge dome is where the Reform congregation of Richmond comes together for holidays. Next to the synagogue is the Archives and Jewish museum which tells the history of Jews of the South, Jews of Civil War and the most recent arrival of Jews from Soviet Union. The museum made me realize just how divided the country became as Jews from the South fought for the South while Jews of the north fought for the Union army. I began to see just how important civil war was to this place. Seeing the battlefields the memory must still be here, scars still deep as every family was touched here. I realized just how far Californians are from understanding the issues of the South.
Baltimore
I've been to Baltimore but never been to Baltimore as in the downtown. Driving into the town, the Raven's stadium is the obvious structure that is there to great you, in a similar way to Pittsburgh.
Driving around delivering info-sheets and checking out synagogues means you get to see diverse areas you wouldn't have otherwise.  The city is very similar to DC. Large grey Roman style government buildings and rows and rows of brick residential painted in all sorts of colors. The Baltimore Sun was near downtown, a red-bricked building with clear ties to history and journalism inside: proudly displaying all the Pulitzer Prize winners on a wall inside.
The Examiner near the Baltimore Holocaust Memorial built like a train car, was still in Google Maps but had closed down over a decade ago. Chasing newspapers sometimes feels like chasing ghosts.
The Baltimore Times and Afro-American Newspapers are in the black neighborhood a couple miles away closer to the people they represent as well as the BethAm Synagogue. A beautiful Synagogue made out of stone similar to the one in DC. Rain poured and I arrived the day it was closed. Sometimes you get lucky and sometimes you don't.
Day 15-16: New York, Philladelphia, Boston
NY Times, FLW Synagogue,  Vilna Synagogue, Bat Mitzvah in Newton, Jewish Advocate
It was 9 pm when I got to my friends place in lower West side. I had planned to go to Boston at night but because my friend  was kind enough to take me in last minute, I was able to go to New York on a Friday while everything was opened and was hoping to get before closing time same day to Boston.
The next morning I took the subway to Tablet Magazine and New York Times to drop off books and get to Boston before too late. The Tablet offices were empty at 9:30 so I dropped off the book without a hello and proceeded to the Times which after seeing other News places seemed very minimalist. Nothing about this place said that this is where news is made.
On the way to the Bus I passed B&H Photo. It's a photo superstore run by Hassidic Jews. They stood around taking orders, explaining products and running the place with their tzit-tzit flowing like their beards and topped with kippas. It was a site to behold these men clinging to a 2000 year tradition while surrounded by the latest 21st century technology. Time stays stills and runs at the same time.
I then proceeded to the train station where the tickets were absurdly expensive and then to the bus stop. It's amazing how I was able to buy tickets online as I was walking. We really ought to thank the engineers like my father who make such convenience and efficiency possible.
Boston
I got on the bus and then the bus stood in traffic for three hours on the freeway to Boston making a four hour journey into three. This ensured that I was too late to get to Boston Globe and the Jewish Advocate which is around the corner from the place where Franklin was born and worked as a teenager. I thought this meant a wasted trip but I was in for a surprise.
A few blocks away from the Jewish Advocate newspaper, on a hidden street and set back to hide the synagogue amongst the brown-bricked buildings is the Vilna synagogue. With it's large Star of David on the front and a wrought iron gate it is simple, non-obvious and obvious at the same time.  Because it operates once a month and I was lucky enough to catch it. I was only able to get so many pictures as I was asked to erase most of them. I was told I needed a release for fear my pictures would be used commercially. I was also told that no pictures could be taken in an Orthodox synagogue where women ran the service in a mixed seating hall.
The community was surprisingly young and energetic, a rare thing for a Reform, sorry Orthodox community. At one point a future bride and groom stood at the Bemah and everyone through candy at them and sang as they walked back to their seats.
A speaker was on hand this day, speaking about her work as an owner of a coffee shop that sources beans from physically/mentally challenged as well as employs challenged employees. She uncovered a new truth for the congregation pointing out that while disabled can't be priests, they can partake of sacrifice as Judaism is an open opportunity religion. She also explained how maybe, disabled people might show the inability of god to provide so the prohibition wast to protect god as well as the disabled from the judgement of the public.
My buddy Matt picked me and I stayed with him as I did so many years ago in New York. We had a couple beers at night and next morning grabbed some breakfast with his fiance. I had a choice again, to get to downtown and go to synagogue there and try to go to Boston Globe which unlike other media places, is located far from center of town, or go to a synagogue nearby.
Newton, where Matt lives is littered with Synagogue and that means it is a very Jewish area. That's why I decided to stay and take a quick hour at a local synagogue. It was only a fifteen minute walk to the Beth Shalom synagogue and as I reached it, I saw it was different. The glass windows protruding and a large lawn and trees around made it feel as if it were a cabin in a forest. The architect Samuel Glaser in fact had intended that to be the case, for it to feel invisible on the outside and open on the inside with plenty of light coming in.
As a Bat-Mitzvah of the great-grand daughter of the architect began, I looked around the beautiful stained glass windows and the torah cover. Both made by masters in their own right.
The service was very different from usual services as it was very fast but the singing by the bat mizvah Avery Gardner and the Kantor, was beutiful and moving. It gripped me to the core for a reason I can't understand.
The portion for the day week was still the various rules of how to celebrate various Jewish holidays and Avery helped me realize that it is the laws the help us understand just how important it is to know exactly how to workship in our Jewsih way. The specifics is what creates the tradition and allows us to have the structure and freedom to be who we are.
I wanted to hand her a book but Avery left and her grandmother spoke with me instead. The spritely 78 year old drives a thunderbird and has a deep piercing gaze and inquisitive mind. She saw my book and looked through it deeply unlike many others often had. When I told her I wanted to give it to her grand-daughter, she made me promise to go to the reception and give it to Avery myself.
A cousin of the family took me to the country club. His family was from St. Petersburg and used to sew military outfits for the court. When we arrived at the country club, all of 70 Avery's friends were dancing and doing various games the DJ had them do.
Avery was close to the entrance and her grandmother described me perfectly: a stranger  and photographer who by chance showed up to this synagogue for this Shabbat and chose to gift the book to her. 13 year-old Avery looked at the book, hugged and looked at me with indescribable gratitude and happiness and said thank you again and again. I was very glad I got to be there as no other thank you had meant this much. She put the book at the front of all the gifts for all to see.
Her grandmother made me eat and then drove me back to the synagogue. I ran to Matt's where we managed to have a gin and tonic prepared by Whitney and then he dropped me off a the bus station just in time to miss the bus.  But it was worth it as we were able to chat in a way we hadn't in a long long time. The next bus arrived an hour later and I arrived in New York just in time to meet my friend Travis for delicious Oysters in the Ukrainian part of the city on the annual Urkainian-Georgian Festival.
Day 13-14: Pittsburgh, Philadelphia
Pittsburgh
I had stayed at a motel an hour and a half from Pittsburgh. I left the motel at 6 am and drove through the Appalachians. In an effort to avoid toll roads, I drove the local roads, weaving through small hamlets, over rivers and beneath small bridges. I got on the main road a few miles from Pittsburgh and as I descended from the hills, a city opened up bellow as if it were placed there in entirety without disturbing the outside forest. The city lay on a small island lapped by a river on both sides. Multiple diverse bridges straddled the island on both sides like legs of a spider if a spider had legs varying in color, texture, material and shape. The city was a regular downtown except with a distinct mix of old german style homes, narrow streets and tall sky scrapers. Some streets looked at the steep cliffs on the other side of the river with buildings lining the edge at the top, looking down on the city bellow.
I weaved through the narrow streets, confusing my GPS to no end until I finally left my horseless carriage and proceeded on foot down the narrow streets and alleys until I found the publishers I was looking for.
Pittsburgh Gazette was gone, moved 20 miles from town, less than ideal if you want reporters to have access to the influencers. The other local paper was in a regular office building with a clearly broken elevator but an entrance that looked more like a TV studio. The gatekeeper looked at me, took my info-sheet and sent me on my way.
On the way out I stopped by the Newspaper Guild inside the Steelworker Union building. The skyscraper was clearly at odds in elegance and form from the rough union workers that streamed in and out of the building.
As I drove out of the city, a synagogue was on the way: Poale Zedek. Synagogue used to dominate the neighborhood as seen from the areal photography, with all streets seemingly streaming to it. Orthodox with pews on bottom looking at Bemah from front and from the sides as well as from the top, it is similar to the Bialystok synagogue of New York in that on the bottom floor is another sanctuary that also doubles as a Nuclear Fallout Shelter.
Beautiful stained glass windows let light in and a chandelier and huge wood carved ark display a throwback to Eastern Europe as well as early 20th century construction.
I must have taken a hundred photographs before packing it up and heading out for Philly.
Philadelphia
I've been to Philly four times. I've had the cheese-steakes and the yuengling beer, but I had never seen the famous Frank Lloyd Wright Beth Sholom synagogue. It's a national landmark, made to look like Mount Sinai from bellow and a star of David from Above. Only 15 minutes from where I had to pick up the car to transport to San Diego but nearly an hour from Philly is the synagogue with the silver peak with seven teeth on each side is something else.
Although the car was near, I had to get to the cary from NY by bus, train and feet first which took nearly five hours. As a result, I was a few minutes too late to get inside, but I could tell looking in that the silver peak was translucent, letting light in and shining onto a chandelier made of stained glass. Wright is my favorite architect who designed every nook and cranny of his buildings including furniture and windows. Some windows of the synagogue had his signature miniature panels. The handles of the doors looked like something from out of space.
Rabbi Cohen and Wright collaborated on the synagogue fitting as much symbolism as possible and making sure it reflected the old Judaism and the the new Americana. The synagogue epitomizes everything I wanted to show: the influence of the host nation on the diaspora is nowhere as evident as the Beth Sholom.
 Day 12-13: Detroit
Ann Arbor is only a half hour from Detroit so I had nothing to worry about except sleep. After several days of no sleep, I crashed and I crashed hard. My friend Thoko and I were catching up late into the night and then we also saw his friend Ani who made sure that I had someone to show me the Jewish Detroit. So although I overslept my desired departure time by two hours, it was worth it because I had Rene Lichtman to show me around.
Rene was born in Paris before the war and was saved by a French woman who hid him from Nazis. After the war he found his mother and made it to US with her. He became a film-maker and an activist. He ended up in Detroit as an Auto-worker Union organizer in the spirit of Abraham Cahan.
Rene quickly made a list for me on the phone about all the places I needed to see. I only had a few hours as I needed to also drop off information with the publishers and meet up with an old friend Daniel who by chance just finished his DDS and had nothing to do except to meet with me for lunch over sliders and beer. After our quick lunch, I made it into the concrete jungle that is Detroit to drop off the info sheets. Detroit has few trees and the sun bakes it non-stop. A lack of a grid style street planning as well as a hodge-podge of building styles makes it a wonderland for the eyes as I drove in circles looking for the news organizations. Few exist there, more dissapeared than exist today just as many other residents of the city, although according to Daniel, residents are starting to come back.
After dropping off the infosheets I stopped by the downtwon synagogue housed in what used to be a department store with multi-color window panels. The building is a trapezoid with the short side only about five feet wide. The president Arlene was happy to show me around the synaoguge. On the second level is the techno-color sancturay in the wide part and another smaller room that terminates with an arc and donated art lining the walls.
On the first floor are the offices and a large room for reception lined with prints showing influences of Judaism on Jazz. Few people realize how similar the riffs of Jazz are to those of klezmer and the scat singing to the chanting of Hassidic rabbis.
Afterwards I drove twenty minutes north to the suburbs where I met Rene at the Holocaust Museum. It seems as though every American town has a Holocaust memorial/museum which is remarkable and seems like a bit overdone and yet, that is so necessary as there are no other museums in US dedicated to effects of war instead of glorification of war.
From the museum we drove further into suburbia to the JCC. The old JCC serving the poor and Hasidim was closed leaving them high and dry while the new one caters to the wealthy and secular, complete with basketball courts, cafe, art gallery and a movie theater where the Jewish Film Festival was playing.
Rene quickly showed me around and disappeared inside the movie theater with his wife while I walked around the building, finding the hall of fame dedicated to Jewish sport and war hero.
One hero, Raymond Zussman earned a congressional medal of honor by helping his disabled tank be in safe position to fire and make its way through enemy territory. He single handedly was able to capture dozens of German soldiers as prisoners and direct fire resulting in dozens of kills. A remarkable story that I and everyone should have known.
At this point it was getting late and I had a long drive. I made a quick book exchange with Coby the Israeli at Coby's Judaica shop inside JCC and I was off to Pittsburgh.  But before I left Detroit, I had to see one more synagogue: the impressive and clearly seen from the freeway, Zhaarey Zedek. It also resembled a mountain with stained glass and large strange bumps protruding from the sharp vertical edge. I had arrive late but the groundskeeper was kind and let me go with my photographs of a synagogue I wouldn't otherwise get to photograph.
Day 11 Chicago, Ann Arbor
Once I crossed the bridge from Iowa to Illinois across America's greatest river and saw the camping sign, I was sold. I was going to re-live a boyhood dream and camp on the Mississippi. I pulled off at the first exit and drove until I found the campsite. It was perfect, right on the bank but pitch dark making a set of problems.
After I made my tent nt drove around looking for Wifi, giving up, I crawled in the tent and read until I passed out and woke up to a symphony of birds at 5am. Ducks, geese, herons, and everything in between was making it known that a new day arrived. I took out the camera, shot until I couldn't and drove out.
For the next three hours the road was terrible, expensive and boring. Somehow in Illinois they don't believe in maintenance. However arriving in Chicago was amazing. The architecture was stunning and the way the pedestrian walkways and public transportation coalesced said a lot about brilliance of the builders. However, the car situation, was horrible: traffic was nonstop making a 5 mile journey to Hassidic or Ukrainian Chicago take an hour.
Hassidic area is wild, it's like Brooklyn but Chicago. They are insular, skidish and speak Yiddish. I couldn't talk to most but saw they were learned men, at least about Torah. Rabbi Eichenstein was recommended by a man in Phoenix and I had to go see that sage. Sadly, no lesson followed, at least non self coordinated.
My next step was Ukrainian area for dumplings and great food and coffee after passing through the Arabic portion right next to Jewish. Why do our people settle together even when not necessary?
Day 10 Kansas City, Des Moines
I woke up to pouring rain in Wichita. I had some coffee with Sintayehu and drove off, first snapping pictures of the Orthodox temple across street from Evangelical church. The road was wet and boring in Kansas. In Kansas City, I saw a calm downtown with tall buildings on a few hills. The streets were narrow and most buildings new, with a futuristic tram going in between the large monoliths. The city had openness of a midwest town with a corporate vibe that made you realize that most of the state has nothing in common with this place. Most of the state was far away, isolated, god-fearing and felt anything from outside as encroachment and over-reach. The rest of the state played country and Jesus was a code word which got people to give money and vote for a candidate faster than candy with a  three year-old. Kansas City rests on the border with Missouri and Missouri blends into Iowa seamlessly. The flat farmland gives way to rolling hills, sparse-wetlands and prairie with some vegetation. I took out the camera more than a couple times and when passing DeMoines I was once again inside a capital city town, where life is slower as if that is how it needed to be for moving important laws through chambers: slowly and deliberately. There was little Jewish life to see but I knew that soon, just across the river, there would be.
Day 9 Wichita, Kansas
Going East from Denver to Wichita, picturesque mountains give to everlasting flat crop fields which are perforated by small trees, some cows and solitary farm houses and barns. After the amazing views of Wyoming, starkness of boring Kansas where one can generally see out to the horizon to the left and right with rarely a view to pique one's interest was a large contrast indeed. An entire day of driving where there is nothing to see and relying on nothing but podcasts and truck stop or two along the way. The path was long but the end had a certain kind of fruit. I would finally see Sintayehu after four long years.
I met Sintayehu in Addis Ababa in 2012. He showed me the Kechene Synagogue and we became good friends. We worked together on getting word out of the congregation especially when their synagogues were shut and their members kidnapped and killed. He ended up coming to America and after a tough winter in Kansas he went to DC where he attempted to do more advocacy work. After the birth of his daughter he moved back to Kansas to finish his Masters where I managed to find him. His wife Hema made us wonderful Ethiopian food and coffee and we spoke about his experience, my project and life late into the night.
He told me also about the local Jewish politics. This is the bible belt and so it is a bit fitting for him to be among the Evangelicals and Messianics. There are two Messianic (Jews for Jesus) synagogues, a reform and two orthodox congregation. The split between Messianic and traditional is also playing out an ugly battle in Ethiopia, tricking members into joining with free healthcare and meals.
After speaking late into the night he laid out a blanket for me and before I went to sleep. He showed off the amazing quilts with Judaica woven by the Kechene community as well as his Hebrew books which were half Hebrew and half Amharic.
What this stop really re-affirmed is our belief in miracles. The ability to fight for the impossible. Because after all, I was born in a small poor town in Ukraine and Sintayehu was born in a small town in Ethiopia, born to long lineages of lucky survivors of purges and genocides. And yet here we were, two refugee engineers in the richest country on earth drinking coffee and talking about how to make life better for others. How can anyone tell us that miracles don't happen when we are the living proof.
Day 7-8 Denver
There are two ways to Denver from Salt Lake: via Rockies through Colorado or via Wyoming, bypassing the tall mountains and instead seeing the beauty of one of the most beautiful states.
Normally most people think that Wyoming is the state that you pass through, and get gas on your way to some place. Or it is the place with flashing no hitch-hikers signs. But as I drove here, I saw incredible rock formations, canyons, spanning vistas and rolling hills. Every turn had a surprise like Caribou, Antelope or Bison. Even a random stop at a convenience store branded the site of a national monument, Green River valley with a green colored river snacking along the valley with beautiful Sandstone rock formations on all sides.
Wyoming had one synagogue on google maps, a red bricked square building in the downtown area near the capital building and a monument to a Jewish gentlemen with last name Burns. The synagogue was closed but clearly not with people worried about their looks.
An hour and a half away is Denver where Jewish community is larger than Utah and Wyoming combined. They had been there as long as in Salt Lake but Denver synagogue was much larger, with a giant main hall, a tiny meditation chapel lined with names of donors and a mid size original prayer room with ark and seats from combination of a synagogue in Europe and original Synagogue that was once in downtown Denver. The synagogue has classes for a school and halls are lined with photographs of past school graduates, rabbis, cantors and current members.
I arrived on Yom Hatzmaut, Israel's independence day and the place was full of kids and parents doing crafts, playing games and eating. School age kids played dodgeball inside a little closed off area while little ones jumped in bounce house in a courtyard.
The Synagogue itself was beautiful, huge high ceiling dome and an ark that went up to the ceiling and seats going out like a giant rainbow. The community was very clearly Denver: Bronco Championship gear was worn and I saw a man with a beard, a cowboy hat and a long braided pony tail. The cold weather outside didn't keep this bunch from having fun. But it was time to say good by and go on a long journey through Kansas.
Day 5-6: Salt Lake City
Drive to Salt Lake from Las Vegas is through picturesque mountains and majestic deserts. On the way, a small detour takes you through Zion National Park, a place of zen-like beauty. It is one of the most accessible National Parks with a tram and short and long hikes like the three day Narrows or the quarter mile picturesque weeping wall (a wall that actually has water percolating, not sure if this is akin to the wailing wall of Jerusalem. Arriving into Sal Lake at night, one can quickly make out the well lit mormon temples among the sea of lights and dark patches of lakes.
Salt Lake City came to be out of an exodus by a religious minority from a place of repression. Their leader had foreseen their eventual journey and while he would die before reaching the place, his trusted number two man would make sure that this happened.
Joseph Smith can be seen as the Moses of the church of Jesus Chirst of Later Day Saints, or Mormons as most people know them. He was lynched by a mob along with his son but not before passing on the plan to settle in the Utah territory the thousands of followers they had at this point. His number two man, Brigham Young carried out the plan by leading the first party over 900 miles across plains, deserts and mountains to the Great Salt Lake and Utah Valley. A picturesque giant green valley  with a fresh water and salt water lakes, bordered by snow capped mountains on all sides. A perfect place to create a haven of ones own. Brigham Young was responsible for this place and he was the architect behind nearly 2000 other towns in the Western Territories.
Within a few years of settling the valley, Jews began to appear. They built stores and felt comfortable among the mormon majority as Mormons generally hold Jews in high regard as the originators of the Torah and being of same ethnicity as Jesus. In fact, the Jews claim that Salt Lake is the only place in the world where Jews are the goys.
Jewish temple is in the East on the way to Park City. There used to be two synagogues in downtown and they combined into one on a hill  as Jews moved out to the suburbs. The synagogue is beautiful, with natural light coming into a beautiful red bricked atrium. The unique stained glass ark houses the torah scrolls.
On the day I visited, the female rabbi and female cantor helped Brennan Cohen celebrate his bar mitzvah. He read the portion of the torah describing punishments for sexual sins and described importance of rules to his life. The rabbi chose this point to talk about how not all Jewish laws are followed today by even the strictest of Jews. Such as killing people for adultery. For this reason she said, we should probably re-evaluate the treatment of gays in that passage.
This moment is the only point in the conservative-reform synagogue, that I felt reform as I wasn't allowed to take pictures and the service was in Hebrew. Although the synagogue was packed with clearly mormon guests.
There were also many seemingly happy converts of Mexican, Asian and African ethnicities.
The service was finished off with a sweet description of his sons strengths by the father and a very puny reference to Brennan's love of baseball when he was presented with a Kiddish cup by one of the girls from his confirmation class and told he "really hit a home-run."
I realized that I had never seen a bar-mitzvah as an adult all the way through and kind of wished I could take pictures. Before hand I spoke to two older gentlemen. Isaac was 91 and said he never had a bar-mitzvah. He didn't feel like he needed one but maybe he changed his mind. I also met Drew there, who goes to San Marcos Chabad in San Diego and was an uncle of Brennan. This was a complete chance meeting and we chatted about San Diego.
Afterwards I ran off to drive to Denver but not before stopping off at the gorgeous temple in Park City, the site of the Winter Olympic Games. No one was  there so I figured I was either too late, or this temple is used only by wealthy vacationers.
Day 3-4: Las Vegas.
Las Vegas is two streets of absolute opulence and debauchery, and a giant city of neglected roads, falling apart buildings, derelict buildings, abject poor and homes of thousands who work the casinos, but are forgotten by all once the clock out and head home.
There are no taxes so no money goes to schools leaving them dead last, no money goes to poor, healthcare or roads except for the ones on the strip.
The city robs all those who come by selling them the dream that they can be anyone they want to be but in reality, it makes them poorer, more miserable and even further from that dream.
The glitz and the glam are a desert mirage when in effect it is nothing but sand.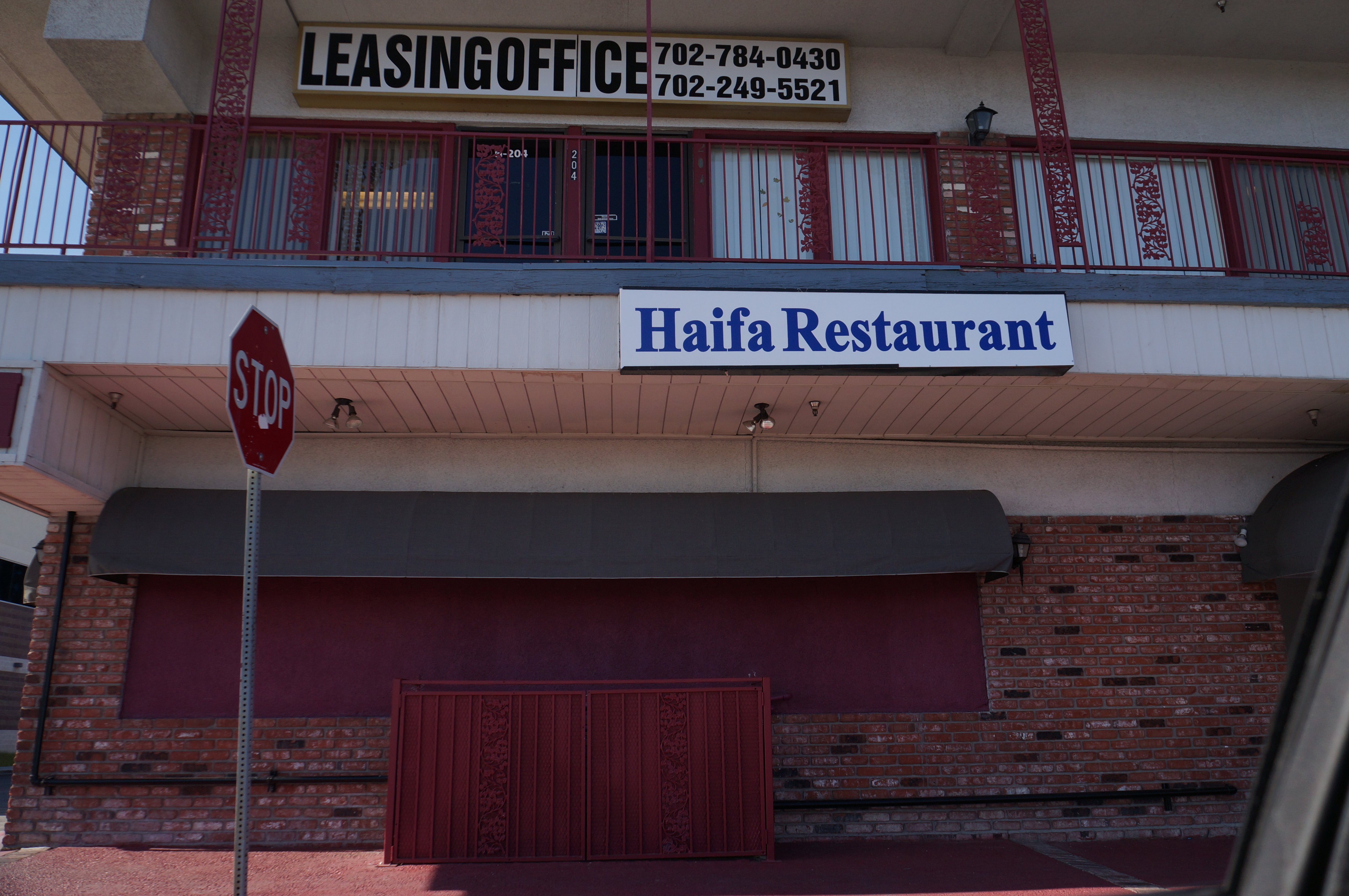 Looking for Jewish community felt that way. I found JFS in a nondescript corporate park sharing a building with a ballroom studio called Addicted to Dance where I had to ring a bell and never got passed the secure second door. I tried to find a Jewish publication but the address took me to a residential gated community. The one synagogue I did manage to find looked like it belonged in a trailer park. Broken mezuza, trash by the sign, homeless people twerking out front.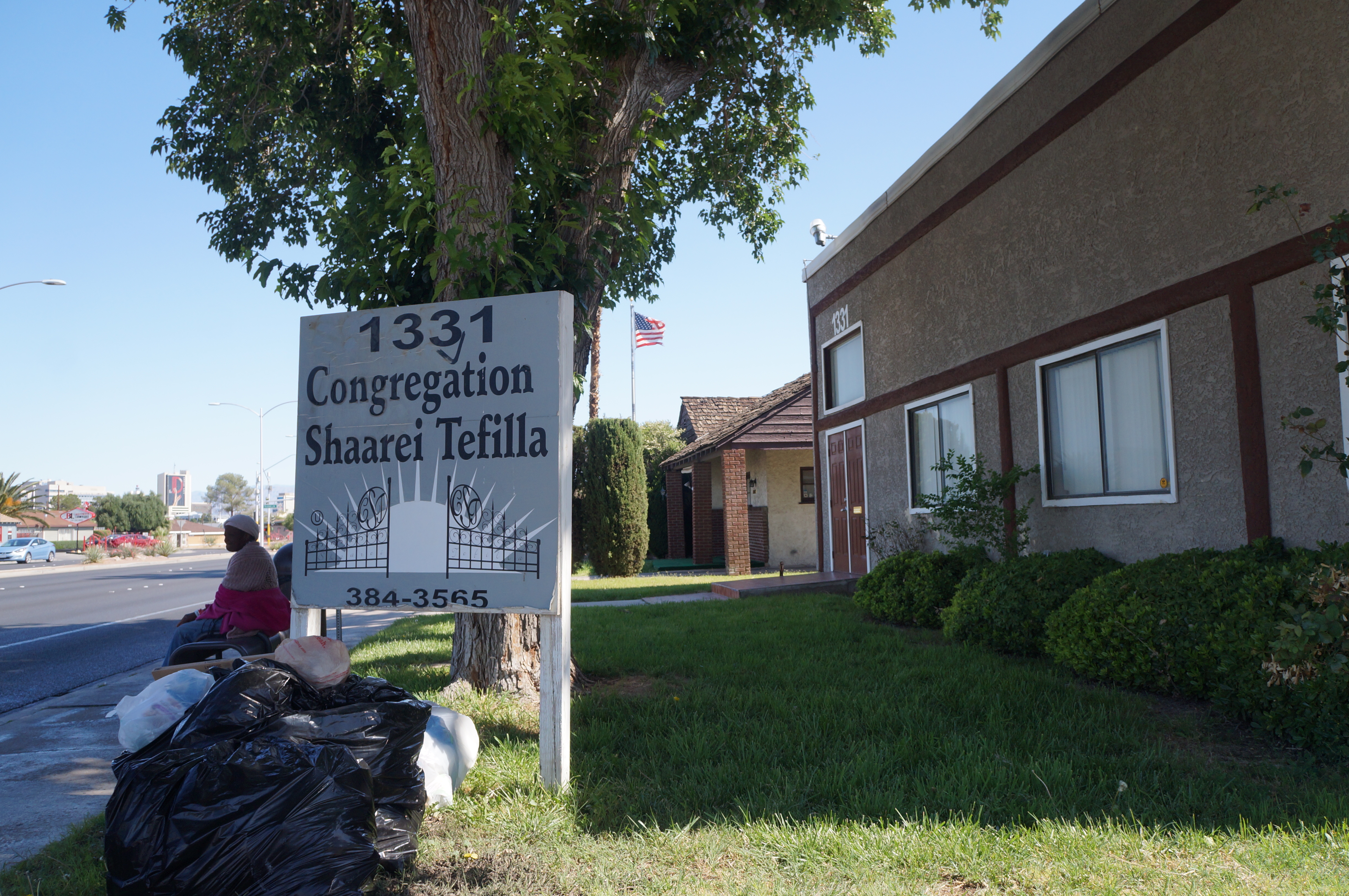 The city of a sin is not fun, it is a sad sad place and I want nothing to do with it.
Day 2 Phoenix:
I woke up at 6:45 and went to pick up the car. I got a ride by Kevin, a retired fellow in a Mercedes. He was once a photographer and publishing/advertisement man, basically just like me.  When I got to the car place, Ira was there (who happens to be Jewish!) as he was four years ago to let me borrow the car. This time instead of the Black Wolf (BMW 750iL), I got a practically brand new Dodge Charger. I donated a book to Ira as thanks for setting me on the journey with great cars both times and made my way to Synagogues. I was going to go to Beth Jacob again but decided to take a look at Scottsdale. Both synagogues in Scottsdale looked more like Phoenix architecture: earthy, 1 story, interesting lines and lines with cacti and rocks. Beth Emeth and Temple Solel seemed to be reform and therefore had no morning minyan to my dismay. Temple Solel which is in Paradise Valley was surrounded by gorgeous homes and parks, somewhat boring but at the same time expected. Reminded me a lot as far as the people who dropped of kids, the surrounding area and the architecture of the synagogue in Encinitas, also called temple Solel. I had to get back to hotel and head north to Grand Canyon and Vegas to show the country to my daughter but in the quick day and a half I was impressed with the diversity of Phoenix Jewry, surprised by the small size and pleased with the kindness I met from the few interactions I had.
Thanks Phoenix!!!
Day 1 San Diego to Phoenix:
The idea came easy, I needed to do a trip to visit publishers for Phittle, my project to enable people to buy news without subscriptions. But I'm nearly broke. How do I fund it? Well, why not visit synagogues along the way, discover American Judaism and Journalism. So that's what I did. Just like last time, I travelled to Phoenix, picked up a car from a driving service and left to see Judaism while talking Journalism.
Last time I didn't get to visit the communities in US except for New York. Or at least I hadn't figured it out until New York. This time with more experience, finding Jews wasn't as difficult. First I went to Beth Jacob/Hebrew Jewish school. I was quickly invited for minyan but since it was starting in an hour, I headed back to hotel to eat with my daughter. By the time I got back, the services were over. So I headed over to Young Israel Congregation, which was closed too. I then drove over a block to Ohr HaTorah, an Orthodox Shul inside of a mini strip mall/Jewish multi-purpose building. The two-story building had a large front opening, a long hallway with doors leading to rooms on both sides. I noticed a group of people inside of one including women with covered hair and a few men with wide-brimmed hats. They invited me for a class and I happily accepted. We quickly dove into my trip, some asked many questions, many did not and in the end we dissected the Mishna on water for the temple. Apparently even then they knew that standing water breeds sickness, which is why covering and mixing of water and no contact with hands or feet of the main sources was regulated. The things I get to learn!