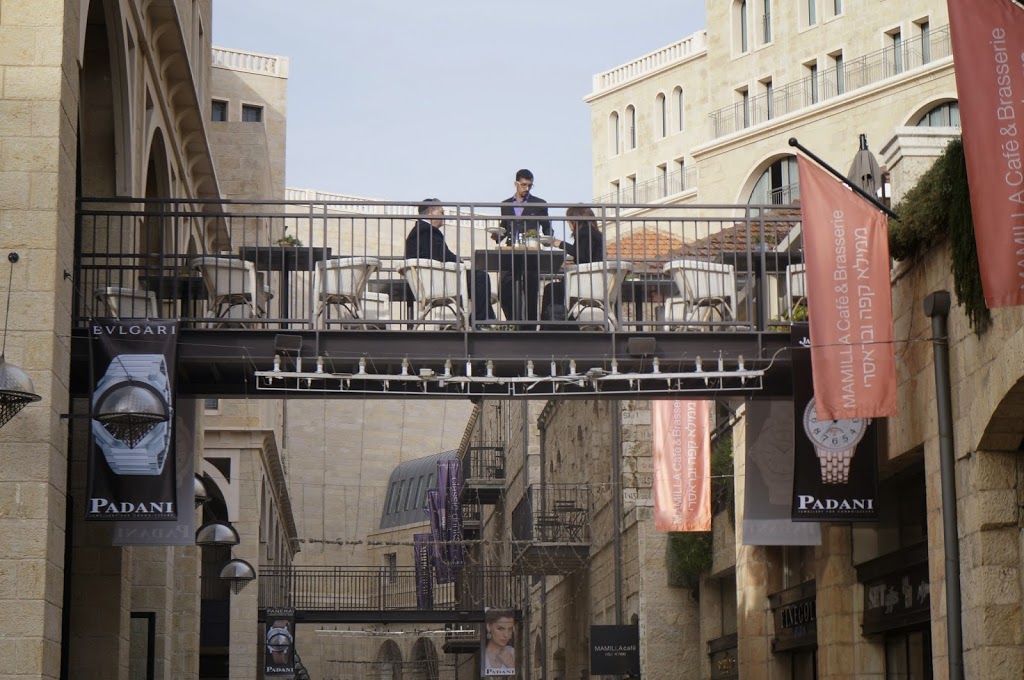 There is one thing that I hate, and that is to be boring. I spent two weeks in Israel and most of those will be of no interest to anyone. So I just kept a brief diary of the past five days when I rented a car and drove around Israel. Hope you enjoy it vicariously.
12-1
I woke up in the middle of the night as usual, at 4:15 and fell asleep till morning. I had some Olivie at my aunts and met up with my cousin Lyonya. We arrived at Avis and the girl with the giant ass but and a seemingly matching personality argued about why the endurance is double the price of the car but she softened in the end when she heard I was American, and I got a car upgrade because the tires on the original were bald. But in the end, I got into the golden Mazda and drove straight to Jerusalem, aside from a stop off at the Latrun monastery and a detour through some kibitzes.
Getting into the city was balagan but I was ok orientating by signs and old places I half remembered.
After passing the great synagogue, I parked near it and went to go inside. It was closed but the museum of jewish art was "open" for a clueless American. They let me in for 20 ($5) shekels where there was a library of the first Chief Rabi preserved as well as some articles from Jews in diaspora, random art and a talit of Rebbe Bal-Shem-Tov.
Next I met up with a fellow Tenter, Irit after I walked down from synagogue to old city through artists village. Irit had just gotten back from the Comedy Tent workshop in Los Angeles and she took me around the German Colony where we went to the old train station converted into a shopping center where a South African with humor as dry as the desert sold us falafel and coffee. As we chatted, she made me realize importance of friends, hard work, backup and not having head in the clouds. She seemed to misunderstand the South African owner who misunderstood what it is to joke with a Moroccan Israeli but she apologized and made nice. We walked to a random monastery near by with its own little vineyard in the middle of Jerusalem, she then showed me a cool movie theater inside a coffee shop, some American supermarkets full of American snacks, good beer and sufganiyot donuts for Chanukah as well as other shops in the area. Afterwards, I went to a coffee shop, saw a part of the most boring movie ever made, got buzzed, reserved a room on-line in the old city and proceeded to get lost trying to find it. My GPS wouldn't find the hostel and kept taking me to some random spot in the city, I couldn't find parking and finally, after I went back to the old place to get directions and found a parking spot, cops stopped me, frisked my bag (not my backpack or jeans oddly) and after failing to find weed, they stole my knife.
I found my room at the hostel and passed only to be woken by church bells every fifteen minutes.
12-2 I woke up to see the sunrise on the golden dome, it was majestic and I played Hatikva on my phone while standing on the top terrace of the hostel. I had to go get my passport to show the hostel that I was indeed who I was since I forgot it in the car. But I decided to go see the wailing the wall instead.
Like a good Jew, I broke every important law in the Torah and went to the temple mount where separate male and female muslims groups chanted "Allahu akbar" in unison every five minutes in between their discussions of the Koran. The area around the Temple Mount looked like remains of the temple lay around the perimeter while the mosque with its gold dome and blue walls was majestic on the white Jerusalem stone. As I left the mount there was stand manned by a little arab man, who sold me pomegranate juice. I paid double what it worth and it was worth every sip.
At this point, I was exhausted, but I persevered and went on a tour of the the tunnels bellow the Western Wall and walked through the Muslim and Christian quarters. I then moved the car, took a shower and made it to Hurva synagogue.
The building was a simple cube with a white dome on top. Elegant and simple built by famous a Turkish Architect in the time of Ottoman rule. Afterwards I hiked up the hill to the great synagogue again and failed as I again arrived just as it closed. I was hungry and all I could think was the falafel stand next to the hostel on the street where no one ever passed and yet the sign boasted of the best falafel period. A nice Arab lady was cutting tomatoes when I walked in. She brought me coffee and indeed one of the best falafel pita sandwiches I had had.
The day was almost over now, but I still had energy and so I drove to Mea Shearim, a heredi neighborhood where no one cared that I wasn't heredi, where life bustled, places were run by heredis, they were busy and seemed happy and the girls wore enough color to compensate for the lack of color worn by men. They didn't allow me to pray at their synagogue but it was fine as I walked the streets where a van blasting trance combined with religious music drove down the streets prompting curiosity and spontaneous dance as if this was a Bollywood film.
I got back to the hostel after where I met Erik Samuels who traveled for a program for photography from U of hawaii. At the hostel Adam, a Palestinian Christian worked and we discussed politics and Israeli culture. He told me what it was like to get an Israeli passport before when one could mark you for death, how it is now where Arab Israelis want one but can't get it and how racist the people can be the corrupt in Palestine are causing war and strife.
Afterwards I went to Public House for a beer after which I walked a bit with a student who was from Zichron Yakcov and then went to Dublin Pub where my night ended with too much food and too much booze.
12-3
I got back to the hostel and woke up in the bunk bed covered in darkness. Because I decided to save a little cash and not get the room with a view but instead opt for a dorm inside a cellar. It was 8am and I managed to rouse myself out of the darkness to go to the great synagogue after coffee at the Mamilla mall. The Synagogue was indeed grand with amazing stained glass windows but otherwise not too special aside from that. Outside it would have been imposing if not for the museum building next door and the hotel across the street which overshadowed its stature and grandeur. I saw about 50 old men meeting for a class in the basement and after leaving and buying red Tishbi wine 2008 at a shop next door for the road, I was off to Tsafat to find the Bnei Menashe and meet with my old friend Gershon.
Driving the road from Tel Aviv, the lack of sleep was starting to affect me as I was falling asleep along the way but while passing Zichron Yacov, I remembered the girl mentioning it the night before and decided it was no coincidence. I happened to park next to the first aliyah museum, in the yard next door I learned about palm trees brought to Israel from California, saw the Rothchild Synagogue and other importnt parts of Jewish history at Israel's first Jewish settlement since biblical times. I then drove across to Tsafat across the beautiful valley and through the mountains.
In Tsafat I walked the narrow streets through art markets and galleries and stopped at the Yemeni Pizzaria. There I talked to Boz, the cook wearing traditional Yemeni garb. His father fought the British and who said "I am to busy to work" after making for me amazing Yemenite pizza. I then wandered the narrow streets of old Tsafat, met a San Diegan shop worker, saw the beautiful raised bemah inside synagogue of sefardim and then drove down the mountain to meet Gershon.
Gershon used to wrestle with us at UCSD. Even 5 years ago, at the sprite age of 73 he could put me on my back with his patented senior world champion cross face. They moved to Nof Kenneret after selling their homes near San Francisco and have been getting accustomed to the life as Olim. With few other Americans near by they were happy to have a conversation with someone with whom they could relate on a cultural levee. I was treated to amazing meal, great conversation and sleep in a nice bed.
12-4
My sleep was not for long however. Gershon roused me at 5 am and we walked up the steep hill while the cows still slept. We were walking to the upper lower synagogue and I had to really hurry to keep up with Gershon. We reached the portable building where Moroccan and an Ethiopian Jew were quietly waiting for the rest of the minyan to show up. Gershon wrapped a tfillin and we began to pray. More Moroccan Jews came in and soon their singing took over the synagogue. One came up to me to invite to Alija and as the torah was brought out in the small space, I watched Gershon do Alija and then I went up after him and an Ethiopian fellow followed me.
Soon after we walked down the hill where you could see cows, pups and the Kineret (Sea of Galillee) down bellow us. I took a nap and then we had a small breakfast, bread, red pepper and salad inside the slice of pepper. I took another nap and as I woke up I saw snow capped mount Hermon in the distance.
We packed up the car and drove to Tsafat on my empty tank of gas past the Ethiopian relocation compound, the University and into the bustling upper old city, a stark contrast to the quiet old city just a dozen feet bellow.
We entered the new synagogue with a beautiful ark where only a couple hassids and their students sat. The rabbi looked at me said: "are you going to take our pictures of us?"
We sat down and he began to read the story of Dinah's rape, how Schem fell for her after violating and sodomizing her and offered land and riches to keep her. They made a dishonest offer assuming Jews would say yes and her father did say yes in order to keep the peace but on condition that they circumcise the whole town. On the third day the town was slaughtered by Jacob's sons Simon and Levy for they were "making a whore out of Dinah" and they had planned to make a dishonest pact. I was in a little bit of awe watching the rabbi read, translate and explain the passage.
I said goodbye to Gershon and made my way back to the car. After filling it up at the station, I made my way back to the Ethiopian compound to talk to the Ethiopians. I showed them the book on a hillside overlooking Tsafat, similar to me to the mountains of Gondar. I then drove down the mountain and made my way for Kefar Hassidim where Indian Benei Menashe group were supposed to be. I made contacts with the Shavei organization responsible for them but they wanted to meet me first, and since there was not enough time, I thought I'd just try my luck and see them anyway. So I drove to what I thought was Golan heights thinking I'll never make it to Haifa if I have to go to Jerusalem first. But as it turned out I was wrong, and Kefar Hassidim was actually right next to Haifa.
Kfar Hassidim is a small town with one road that is lined by farms and old buildings. It ends in a cemetery with Russian, Romanian, American and Israeli graves old and new as well a small one for the soldiers and another one off in the distance which was distinct with flat graves, raised up over the ground.
As I sat meditating, I saw a couple soldiers walk past me and behind the cemetery. I followed them and saw an opening in a fence. Going through I was a dirt road. On the right I saw a religious woman and I walked towards her. She looked at me curiously as she went through a gate, I smiled and said Shalom.
The road took me out to a compound. Large buildings on the right and left and a cow farm in front of me with a little zoo where Ethiopian kids seemed to be. I walked left and saw a car with a woman next to it. As I approached she asked me what I was doing. "I'm looking for B'nei Menashe." I said. "Walk back and up the hill" She responded to my surprise. I walked back towards a pink house that was a cafeteria. Past it were small pink apartment homes where Ethiopians lived. A small building with a mural of kids of different colors wearing kipas and past that was a thatched roof round synagogue of the Ethiopians. It looked out onto a large courtyard where brown skinned asiatic little boys with kipas and girls played cricket and soccer. A few adult women with babies sat under a gazebo next to two-story long apartment buildings. Next to them was another small building and next to that a large one; Synagogue. A woman with child walked past me and into one of the small building and I followed. Inside were all the adults to whom a rabbi was speaking and an asian man with a kippa, beard and side curls translated into what sounded like Chinese. The woman bent at the waist with the child resting on her back and tied him with a large wrap to herself. Some girl fell and began to cry and I decide to walk out. I talked to some Ethiopian kids and then walked past a few little girls playing on a green knoll bellow the cafeteria.
I made my way out of the compound to the car and took out a wrap that Karen, Gershon's wife packed for me. I was glad she did as I was hungry. I then got in the car and drove out. I went past a large bus and saw a gate with two flags. I got out and took pictures of house across the way with circular Ethiopian looking synagogue and farm equipment. Next to the compound with flags was another one where I made out a sign that said gallery. I went inside and saw a wood working shop. A man with a short beard, kippa and glasses greeted me. He was Shimon and his father was from Tripoli. He was a self taught wood worker and he made everyday objects like coats and books out of wood, so l life like that one could confuse them for the real thing. We chatted for a bit, I showed him my book and then I made my way back to the compound with flags which happened to be a restaurant. The restaurant was closing and I made my way to Haifa as the sunset.
In Haifa as I parked my car, my aunt Rimma called. Her son Mark lives in Haifa so I asked him to call me and he soon called me and invited me to stay at his home. I walked around the arab town talking to friendly locals who helped me charge minutes to my phone and I finished the short tour at a Russian restaurant bellow the Bahai gardens drinking a beer. As I finished it, Mark called and I sped off to the little town of Nesher 20 minutes away to meet my cousin, his wife and kids.
After a few glasses of wine, they made me call Jerusalem and delay the trip there.
Dec 5
We woke up next morning and as I was about to leave, Roman, Bella, Mark's wife's father told me some stories of his time in Donetsk. I was going to film him but couldn't get the nerve, as I left he called out from above, I forgot the camera. Again, I thought it was a sign, I went back and recorded his stories from Ukraine. He was a very most interesting man and I heard how his mom had to sneak him out of town to have him circumcised, how he hid mazza during passover and navigated the anti-Semitic system of Soviet Union. I travelled to Jerusalem without regrets and entered the Shuk where I was to meet Naomi, South African friend of my Colombian friend Topaz. We chatted for a while at a coffee shop near Ha Dovidovka stop and walked the streets of old shuk full of Arabs, Jews and all sorts of crazy people, smells and sounds.
I dropped her off and made my way for my family in Hatzion, across a valley from the cemetery one passes when entering Jerusalem and the ill-fated Har Hoff where terrorists with cleavers hacked at rabbis and killed a Druze police officer.
We ate, we drank and we dissected the book for several hours before finally departing for bed. Thus ended the odyssey of Sam around Israel.