June 13th
I'm sitting in the Underground recollecting the differences between US and UK as I bounce up and down, on the uneven tracks attempting to type.. People here seem just like the people in NY but they talk funny. Just the day before yesterday I was in Brooklyn
June 9th.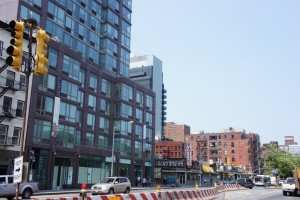 After two hours of research, I set out for Katz deli. Pretty much the first deli in NY and founded in 1859, its first years were right around the civil war. It doesn't feel like a civil war era place though, but more like a 1920's restaurant. Single story (one of the few in New York) with large signs and lots of neon and located next to an Italian pizza place, Indian food, some graffiti-ed bars and a new and modern high rise apartment building. I've been to Katz's before and it isn't much different during the day. Most important thing about is that it's kosher, equally packed by New Yorkers and tourists from all walks of life and there are pictures of the owner and his son and the various celebrities that have come through covering the huge walls. I sat down with their home brew and a Matzo Brie (like Rye but with a b) which is like a pancake with matzo.
Most of the workers seemed to be Puerto Rican except for one who was obviously Jewish and looked like he was somewhat in charge. I came up to him and asked for an interview, he was happy to and brought his dad over as well. We sat down and we talked about where they came from, how they felt about living in NY and what they were doing with the deli.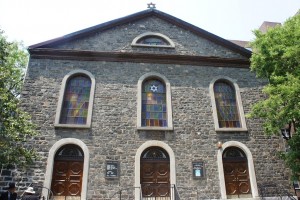 Now that I was nice and full, I headed out for the Bialystock Synogogue. Only about a mile from Katz's, it is in the lower east side where Jews settled nicely with activity centers, businesses and this Synogogue that has been there since the 20's. The building is much older, it's been around since before civil war, when it was used for Underground railroad. An old gentleman told me that inside, there are paintings of the twelve tribes of Israel. The area on a Monday was lots of kids in groups belonging to camps, some Chinese shops as they are near China town and many elderly people walking the quiet and shaded streets. There's a nursing home next to the Synogogue that had a sign on it: "Previously, Home of the Sages". The times have changed, and the elderly are no longer the sages.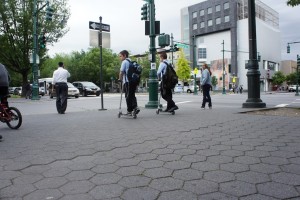 Jumping on the subway landed me in Brooklin in thirty minutes. I got out at Eastpark and Kingston where Hassidik boys and men walked the streets. I was transported into religious Jerusalem where m
en walk around with hats, suits and `and unshaven beards. Women walk the streets with kids and strollers and their bearded husbands sit inside shops selling Israeli food, Judaica and jewelry.
Four blocks up is a Dominican community while four blocks down was another African community. Nicely trimmed streets gave to trash and police. At the corner was a Children's museum and on another was the Chabad house that I came for.
It wasn't what I expected; no obvious inscription, just a lot of guys in suits and hats hanging around. I walked down the stairs and met Yehuda. He sized me up, gave me his yamaka, took pictures of me by the Torah, had me put on Talit and made me read from the Torah for my first time and then had me watch and film a boy doing his daily reading from the Torah scroll. The boy had giant pesah and read quickly, giving correct intonation at the right moment. Yehuda then let me have an interview:
-What do you do?
-I'm a contractor and I write prayers for mezuzas.
-What does it mean for you to be Jewish?
-I am a convert, it means belonging, it means culture it means religion.
-Why Chabad?
-Because its the direct word of god.
-Why not Israel?
-I lived there for five years, came back and found a woman here.
-Are you engaged? Well soon, I hope. He laughs.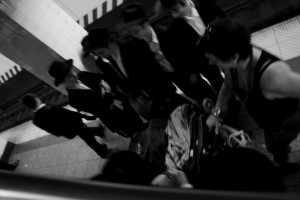 We leave Chabad and he introduces me to a few more people. He gives me a book by the Rebe and has me buy a yarmelke and takes off. I walk the streets, watching boys in blue button-up shirts race down the street on razor bikes with their tzi tzi flaring in the wind. I stop off to have a mixed grill pita from Mendy's at the Children's museum. I watch a well dressed woman come in with six kids. She is no more than 32 and has her hands full. I watch the dark Sephardic boy point a ketchup bottle at his little brother, he squeezes harder and harder and it shoots in an arc all over his little man suit and his little boy face. He sits wide-eyed in disbelief but does not cry.
"Take your brother and wash him off!" The well dressed mom tells the son after his brothers rat him out. "No more soda, do you want another mixed grill?" she asks the innocent six year old. The two year old in the crib laughs as the six year old plays with him.