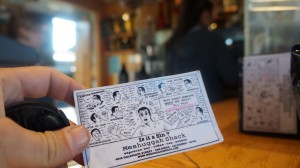 Meshuggah Shack free drink card!
I had just come back and two days later I was invited to Pecha Kucha, an event where people in the design and architecture community present their work in twenty slides with twenty seconds to each slide. Mingling after the event, a man in white pants, white jacket, white cowboy hat and Israeli olive skin asked if my friends and I wanted a free drink. Thinking it was alcohol we said "yeaaah!" but in fact it was free coffee, any coffee at his coffee shop in the cute old neighborhood of Mission Hills, a neighborhood in between the gay Hillcrest, the shopoholic Mission Valley and the museum that is Old Town. The card said Mazel Tov on the back. I smiled at the serendipity following me. Two days later and Jewish signs are following.
The free coffee card lay in my car for over a month. But the day I interviewed the Rabbi of San Diego Chabad, Rabbi Chalom, I was hired on by Israelis to install Christmas lights (strange I know, the owner himself admitted the "mistake") and a few days into the job I was in Mission Hills putting up lights on top of a gigantic house over-looking Mission Valley. On the way to the next job, I made a quick stop at the Meshuggah shack to redeem the card and hopefully run into the owner.
The place was more than I expected. It was like world's religions and hippies had a million babies in there. Jesus, Buddha, Hindu and pictures of dogs in Orthodox Jew wear took up every inch that wasn't taken up by coffee, cups and coffee makers.
The Batista girls in a friendly manner told me that the owner was extra eccentric as he is gay and Jewish.
They gave me a cup as the owner pulled up in his little pick up truck. We shook hands and I asked if its OK to take some pictures, his only request is to make him "look straight."