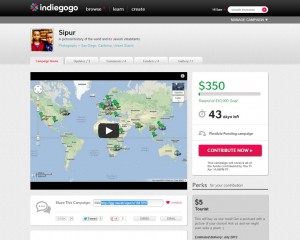 Dear fellow Jew/Traveler/Story teller/Citizen of the World,
My name is Sam and I am a traveler, photographer, engineer and I happen to be Jewish. As the founder of MyJewishStory.org and SamTheJewishGuy Blog, I travel looking for what I believe to be Jewish stories to bring out Judaism through images. I am doing this because I believe the greatest danger to Israel has always been within rather than outside of Judaism; the only way the outside can undermine Israel is when Israel is divided. Israel today has a global history of which many Jews remain unaware; this gap becomes manifest through deep racial and cultural cleavage. When I travel to places where Jews once lived and abandoned, I can show Israelis their bond with the world, with each-other, showing how this diversity has saved them before. By embracing their historical global connections, such diversity can become a strength instead of a division. I am doing this by interviewing, traveling and spreading the Jewish story.

Currently, I have traveled to 23 countries across five continents. Thanks to the generosity of many people along the way and a $15,000 budget, there is a lot to show. However, to provide a complete picture and make this project truly representative of the Judaic world, more needs to be done. I am asking others to join me in my search for a fuller and more complete story of Jewish life and culture from all corners of the world. By going to the following link, you can see a short photo video showing pictures and a brief introduction about the project and goals. I hope you will become part of the world's first attempt to bring together the world's Jewish diaspora in one place. Whether you are from Morocco or the Philippines, there is something for you to learn about yourself.

Your support and time will be much appreciated! Please help this worldwide effort by sharing my quest for stories with your friends! We hope that you will join me and all others who have joined by supporting My Jewish Story along the way.


To support our cause, go to IndieGoGo before April 11
The donations will go towards travel costs, website design, translating of content into other languages, book publishing and professional video editing.
Profits from sales of the content will go towards education and upkeep of Jewish heritage sites as well as a cemetery for Jews of Addis–Ababa in order to ensure freedom to practice Jewish way of life.

The world is better with a free and secure Israel and as Jews, we finally have a homeland! It is up to all of us to make sure that the days of indignity and exile are truly over.

Only together can we make a stronger and better Israel.

With kind regards:
Sam Litvin
indiegogo.com/projects/sipur
SamTheJewishGuy.blogspot.com
MyJewishStory.org