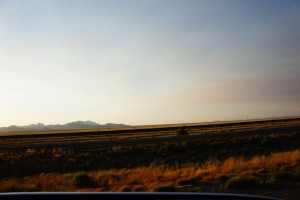 I arrived in Sugar Land at 11pm. It was a long but scenic drive from New Mexico where the flat lands gave way
to the mountains as I rounded the bend of Las Cruces and as the rocky desert came up the road I reached the desert of El Paso. Driving along the banks of Rio Grande in view of the little boxes of Ciudad Juarez on brown hills, where one can smell the blood of dead bodies that turn up there on a regular basis.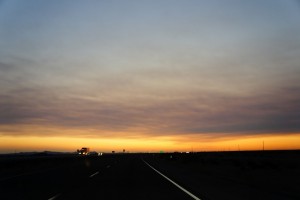 The desert gave way to prairie and circular mesas. I imagined characters of my favorite books of the Headless Horseman and Cooper's The Prairie traveling across the endless steppes. Those turned to mountains as I neared San Antonio. Full of hills and short trees. As you enter San Antonio, it feels like New England married California. Track homes hidden between the trees as the freeway winds itself towards downtown. I ride through San Antonio highways, racing towards the oil fields of Houston. I drove down the wide lanes bordered by strip malls and busy with large pick-ups. I squinted to make out the unlit streets and made my way down Sugar Land lanes, down Texas Hwy 6 and into Misty Lake Estates rolling like night in my big black wolf. The homes had no numbers and I stopped a block away from by best friend's grand father's home. Anton came out to greet me, we went into the home, crashed out and chatted into the night as we used to when we were ten years old.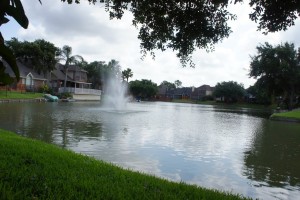 Next day, I woke up to a woken house. I slept much and in between the sleep and food, we rode a little electric boat out on the tiny Misty Lake with homes lined along it's banks with Sugar Landers out in their back yards waving to us as we went by and dogs barking from the edge of their yard. It is strange to have streets so dead and back yards so alive being used to total back yard privacy of California.
I planned to drop off my Transcript and then head early in the day but that wasn't the case. I know that Jews are a small people, seemingly insignificant people and I thought we talked about ourselves too much. But being inside of Anton's home, Jews were brought up without my help very often. Anton's mom was compared to a Jewish mother as she was doting on Anton and Anton's grandfather spoke of his good friends who were Jews.
I had planned to head out for DC before the big birthday dinner, but something made me stay, maybe the Olivie, maybe the story that was to come. As we sat around the table at night, after eating caviar, olivie (Russian potato salad) and drinking shots of cognac and glasses of champagne in honor of Geliy's 80th birthday. Geliy sat there in silence as he described how he as a ten year old slave of a German officer, walked around empty houses of the Lodz ghetto that had been emptied of the people in one night. The entire ghetto, shot by machine guns and dumped into a ravine. A town that used to be 27% Jewish was Jewish no more.
"Didn't they know?" Someone at the table asked.
"They did, probably, but no one wants to believe it. They were told to go out and put on white cloths around their arms. And if you didn't you were shot on the spot."
"Why didn't they take you?" Someone smirked referring to Geliy's large Armenian nose.
"They inspected me, measuring my scalp." He said ignoring the joke.
"And they didn't take you?" Nose joke again.
"The inspected me naked and I was uncircumcised." He answered in seriousness ignoring the joke.
"Didn't you loose a child hood friend who was Jewish?" Anton asked.
"Yes, I did, they shot him."
"OK…" Natasha, Geliy's daughter said breaking the stillness of sadness.
Larissa began serving cake and I remembered my great-grandmother Olga, a pharmacist in Shamovo Belarus, shot as she told villagers not to follow orders to go on the trains. Entire village, gone in a day.
Such was their Jewish story of Jews.