I took the hard easy way out. I've been searching all the normal places for Jewish life and failing in many ways to find that gem behind the place.
I should have known that my quest to know the culture only comes to me the Sam The Jewish Guy kind of way. In Odessa I chose to not go to the Synagogue right away but instead spend the time getting to know a new friend. Because of that I showed up to the Synagogue for end of Shabbat services and I was invited to dinner and met some really great young people. A similar situation occurred today, after failing miserably to find Jewish stories in Istanbul heat two days ago, I found it relaxing with a margarita by the side of the Aegean sea at a resort called Babyl On. Mehmet, my host and ex-exchange student was treating me to a mojito and as we sat there in front of the emerald water, relaxing after a good swim and paddle boarding, his mom mentioned that she saw a celebrity at this posh beach. Who? The Turkish representative to Eurovision. I remembered something about Eurovision in the Turkey Jews wiki page so I asked "Isn't he Jewish?" "Yes he is." "Where did he go? I'll interview him." She pointed towards the bar. "Do you know what he looks like?" I asked Mehmet. "Tall, dark and with lots of tattoos." With that Mehmet and I were off. It didn't take long, the nose knows and I pointed to a guy sitting at a table in a funny hat and dark round spectacles. "That's him! How did you know?" "I don't know, Jewish sense."
I hesitated for a moment but then I was with my little exchange student, I said I'd interview him so I had to. I walked towards Can (pronounced Djahn) Bonomo and said "Shalom!" He smiled and said "Shalom!" "My name is Sam, I'm traveling from America, my friend says you can sing." Bonomo seemed to sour a bit. "You're Jewish right? I'm traveling and documenting Jewish life across the world."
He soured some more.
"What are you doing here?" He asked.
"Chillen, enjoying the sea. Can I talk to you about being Jewish in Turkey?"
"I'm not really Jewish, my parents are but I'm not. You should talk to this guy about being Jewish." He said pointing to a pasty white guy with gelled black hair and round black rimmed glasses. That's an odd thing to say I thought, especially considering his main Eurovision song could have easily fit in a 2012 remake of Fiddler on The Roof.
"He's Jew-ish" said "that" guy. Well, I got the hint.
"Who are you? What's your name?"
"I'm Axel, Can's best friend. Our moms were best friends and our grandmothers were best friends."
"Cool so you live here?"
"No I moved to New York."
"How'd you end up there?"
"Went to school at Penn State."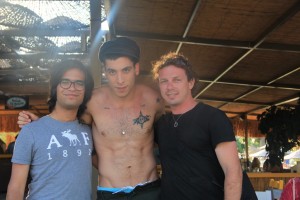 Questions for Can were drilling in my head but this guy is cool but he moved to New York while Bonomo is from here and made a name for himself. I wanted to interview Can Bonomo, I wanted to film us speaking but alcohol and heat were playing tricks on me. I was listening to Axel and looking around, grasping for what to say next. "So what's it like to be Jewish in Turkey? Is there a big community?"
Can was now buried in his Iphone and the notepad in front of him was half written with song lyrics.
"It's a tiny community but Turkey is probably the best place in the region to be Jewish. Lots of synagogues, no one bothers you, people are mellow, no anti-semitism."
"Really? I went to the Neve Shalom synagogue in Istanbul and it seems to be pretty well guarded."
"Yeah that one has some history, a man burst in with a machine gun and another with a bomb."
"So other synagogues are more relaxed?" "Yeah." "What about the whole flotilla thing and what happened after? Oh wait, you weren't here then."
"No you're right, I wasn't but still, that's just momentary politics, it will pass. Turkey Jews never had problems here and it will stay that way." At that point I didn't have much else to ask and it didn't seem right to make a video, although in hindsight, I really should have anyway. So Axel, Can, if you guys see this, let's make a better clip about Jewish life in Turkey for the kiddos back home and for Turkey, I think a place that took care of ours for so long and so well deserves a good entry from it's best.