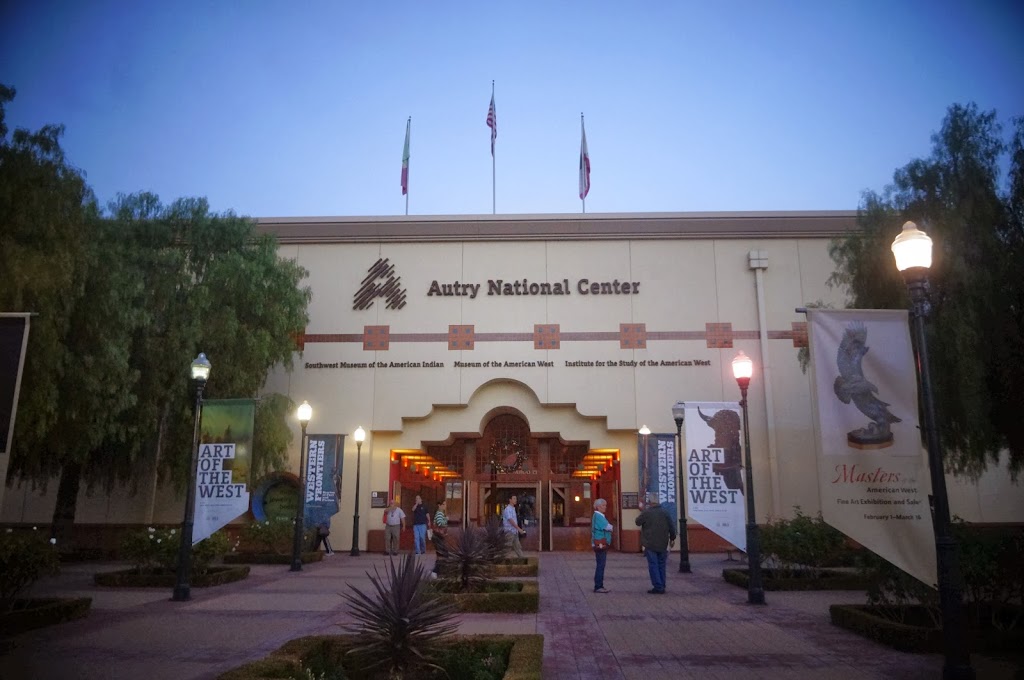 On a sunny Saturday, a German Couchsurfing couple and I climbed into their burgundy bird dropping covered Chevy Aveo and drove up the coast 101 to Los Angeles. They spent a couple of days at my house telling me all about Germany and the Tattoo culture over Budwisers and I told them about being a American-Russian-Jew.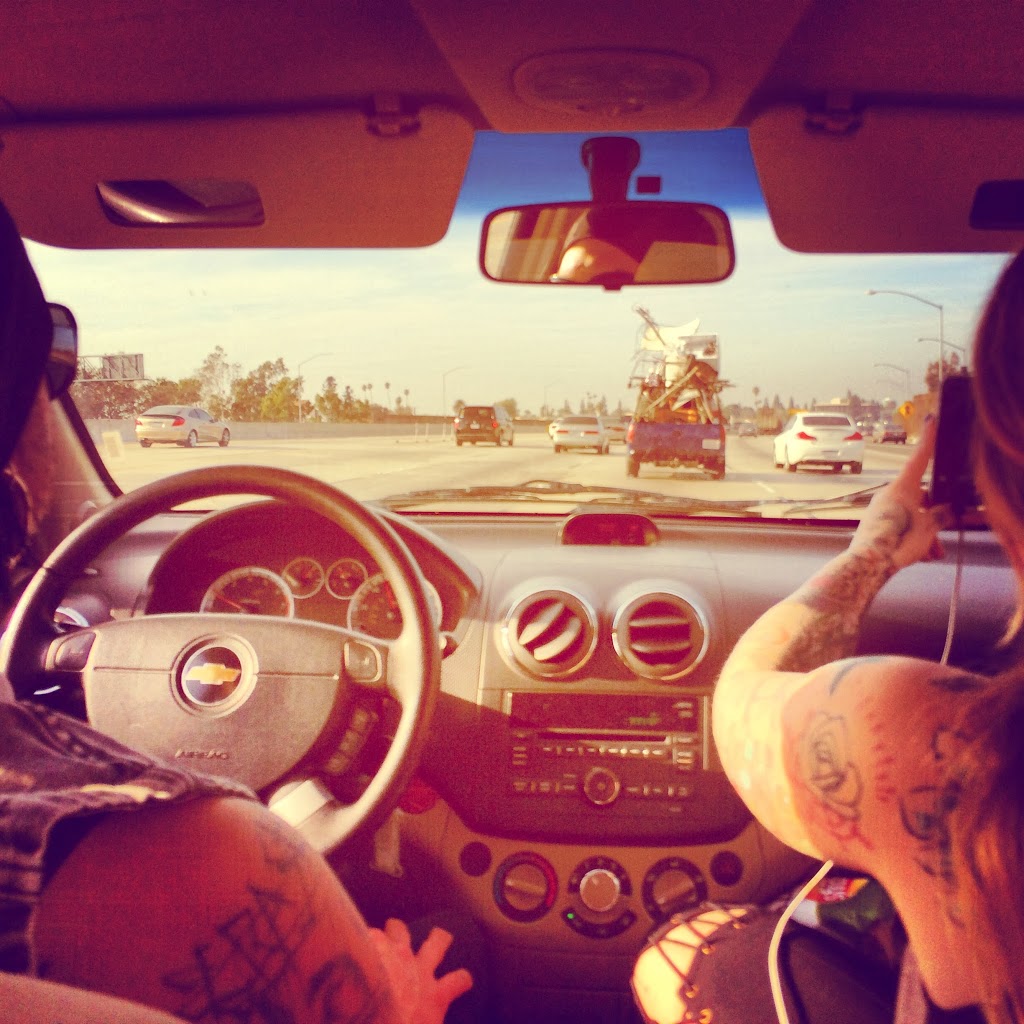 driving with the Germans
They were taking me to the Autry Museum in Griffith Park a day before the Jews in the Mosaic of Los Angeles exhibit closing.
We made in record time of three hours in LA traffic to arrive at the impressive, tan facade of the Autry Museum, center for Americana Art and Culture, across the street from the Los Angeles Zoo.
I planned to see the exhibit that my friend Yessenia Costa told me about. I still find it amusing that I most often hear about Jewish events from my non-Jewish friends. Their support always reminds me that we are never alone.
But I digress, I walk into the museum and it is fairly busy with last minute museum goers who put off the exhibition until the last minute. I'd say all of them are Jewish minus a few tourists. I read a review before going and its main criticism was that exhibition did not stress the Jewish food of LA. Funny enough, the reviewer may not have noticed a menu from the first Israeli restaurant in LA. But in all fairness, the exhibit was much too small to have everything.
As I wandered the Judaica and Statistic chart filled exhibit, I slowly read my way into the history of how the Los Angeles Jewry. The exhibit that really struck me was the Hollywood exhibit. Billy Wilder, Max Factor Goldwyn Meyer and etc, the personalities who created Hollywood were Jewish immigrants. Jews who emigrated to America were not just garment workers and financiers, they were also from a rich European tradition of Yiddishket play writing, performance and literature. It dawned on me how these performers and writers, who come from epicenter of art and culture, having worked for royalty and the best theaters in Europe and they arrive in America without much of a language or a network to work in their fields. Theater guilds are tight knit and are not too friendly to Jews at the time. Meanwhile, here is this medium of moving pictures that no one is doing anything about. So what do they do? They scrape together some money and put the perfect Los Angeles climate and endless cheap land to good use. They create the first movies and movie production studios. These play-writers and performers and costume and make up people create visual stories that unlike theater performances, people can see anytime and anywhere. They write musical scores to them and create an art out of novelty that had not existed before. And still no one took it seriously and so they gave jobs to those who wanted them, other Jews.
Who was to know what Hollywood would be today, who was to know that these first companies would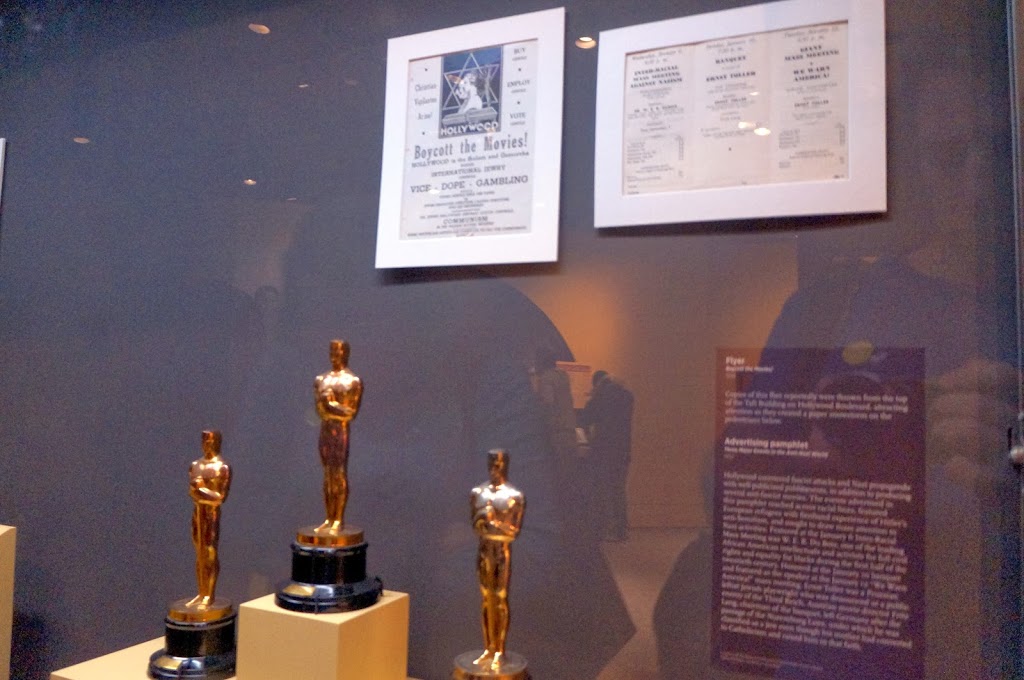 They might have hate, but we have Oscars.
now control the entire business which created much animosity among Americans as television and movie influence became larger and with it Jewish voice was clearly over-represented.
But here for the first time I grasped why Jews controlled Hollywood; because they created it. They were the ones who made it and therefore they were running it. Just like finance, banking and law, it was not because they took over, it was because they created it and therefore were the first and by putting in that time, they were the best.
From there I moved onto other exhibits, like the first Barbie made by a Jewish mom, the Walt Disney Hall designed by Frank Gehry that Walt Disney I think would have been happy to know that a Jew built a hall with his name on it, after he struggled so long to loose anti-Semitic reputation/.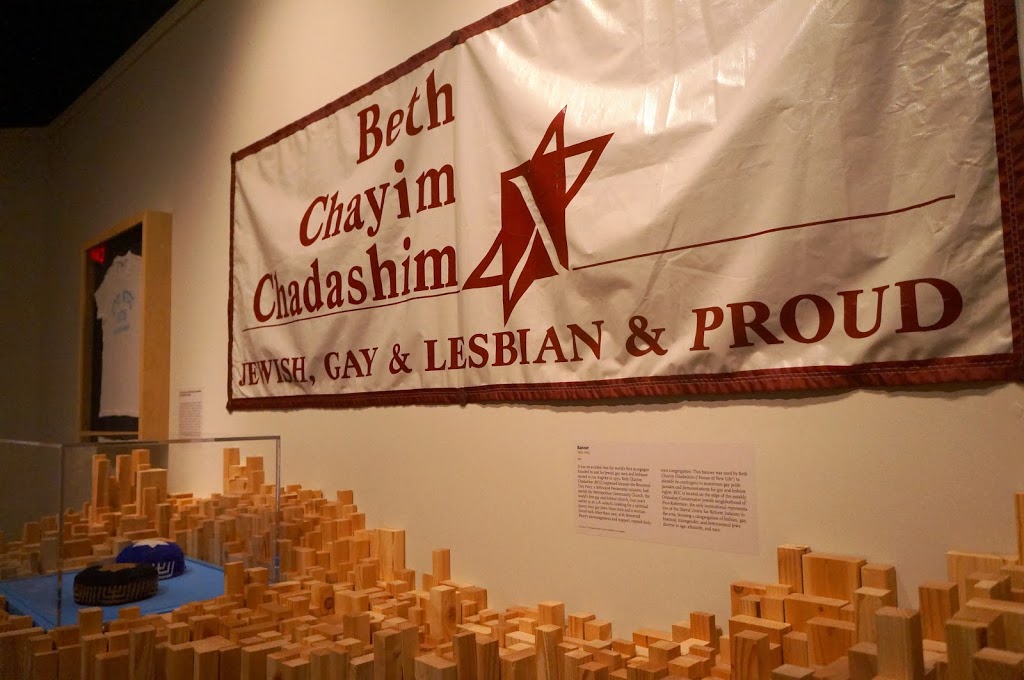 Beth Chayim, first Gay congregation.
Moving on was the banner from the first Gay Friendly congregation which started down the street only a
few months after the first gay friendly church, the buttons and pins of protests to help the Jews of Soviet Union and letters of a family fleeing Iran to settle in Los Angeles with the majority of other Iranian Jews who left after Ayatolah came to power.
Although San Francisco is known for its counter-culture, Los Angeles was clear was a city of strong protest and welcome. From anti-Nazi and anti-Vietnam movies to protests against Soviet ant-Semitic aggression and the welcome it gave to Iranian and Soviet Jews.
Although exhibit was short on material and history of these new Angelinos, it is OK as these immigrants have time to add to LA history before they get space at the Autry museum.
I was stopped a couple times for taking pictures as photography was not allowed but an explanation that I'm a blogger writing a book got me an OK and a personal chaperon. Judging by the experience, looks like Los Angeles will be a city that won't give Sam The Jewish Guy problems.
This article has been edited with regards to Walt Disney anti-semitic claims. After further research, it was found that it was not quiet true as shown by Neal Gabler in his Biography of Disney. More can be read at: