San Diego is amazing in a million ways except for one, sadly it is not a very cultured or intelligent town. If you are out and about and would like to stop a conversation, just start an intelligent topic and watch the eyes glaze over. The city might have beautiful libraries like the Geisel at UCSD or the new Downtown library, but the two buildings of books are eclipsed by the Zoo and the beach. However, for the past nineteen years, San Diego Jews put on a book festival; a Jewish Book Festival.
Daniel Goldhagen signing books.
For almost two weeks, internationally renown Jewish writers come to La Jolla and Encinitas and talk to the public about their books. It's like a mini comic-con, for Jewish book aficionados. Speakers include writers like Daniel Golhagen, Alan Dershowitz, Doctor Sheri Fink and Slate Magazine's Emily Bazilon. Most of the talks are not free so it is usually a sparse crowd of 50-100 people per talk but all of speakers are captivating and interesting. Whether it is Marion Grodin speaking about her life as a depressed comedienne and cancer survivor, schoolyard bullying by Emily Bazelon or the growth of Anti-Semitism by Daniel Goldhagen.
The talks are followed by a question and answer session. Because most everyone is Jewish, the speakers and public relax a little. So when Sheri Fink asked about how those in the audience would
Dr. Sheri Finks speaks about the breakdown at Memorial Hospital
pick who should live or die during a disaster to recreate the feelings that would might have been during Hurricane Kartrina , a woman said "save the young, they have more to live for" as a hush fell over the crowd of older baby boomers and retires. I wanted to ask Marion Grodin to comment on being a Jewish comic and she asked me if I was Jewish. For some reason that question made the entire place burst into laughter.
Because few people attend, it is easy to come up to the writers, get them to sign a book and even get a few questions in before they rush off to the airport for the next book festival.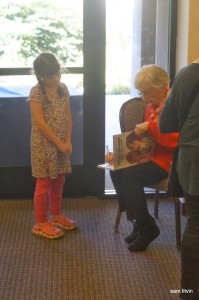 Of course you can buy books as well, and the organizers do a great job picking a selection of books out of the thousands and thousands written by Jewish writers. The selection ranges from children's books to politics to fiction and Moroccan cook books. I was surprised to find the new
book by Paulo Coehlo about Jerusalem during times of Crusades. Paulo Coehlo's Alchemist and Malcolm Gladwell's Outliers were on my ipod as I traveled and I must have heard the two books over a dozen times.
I think that given the Israeli presence of San Diego and Hebrew readers, there ought to be some books in Hebrew to make a more inconclusive festival. Maybe even add some Spanish and Russian since there are many Jews in San Diego from Mexico and Russia.
It was interesting to see a mix of mostly American middle age to elderly Jews that I don't usually interact with. It made me realize that San Diego Jews, just like other San Diegans stick to their own little clique. A place rubs off on everyone.
For more information, see the book festival brochure or check out their website.
More: