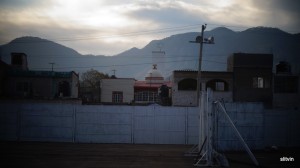 The plane rounded Tepic, a small town in between tree covered hills. The light green sugar cane surrounded the town and fires burned around the city as the sugar farmers burned the valuable husk. Sut covers the city six months a year instead of powering cars thanks to the subsidies that corn manufacturers get in United States.
The tiny airport had enough place for one plane and was the size of a DMV waiting room, with a couple of shops inside and no bathrooms. A crowd of people were waiting for their relatives to arrive from the United States and Tijuana.

It was quiet outside the airport, and a few cabs circled the tiny parking lot. Ale arrived soon after I sent her a text. We drove along the valley passing sugar cane fields on a two lane road before entering Tepic. The capital of the state Nayarit in in Central Mexico, founded in 1531, nestled between Guadalajara and Puerto Vallarta, where main industry is Sugar and a population of maybe 300,000. An hour away is a sleepy beach town of San Blas, where little is developed because most of the money is poured into Puerto Vallarta. Puerto Vallarta is similar to Cancun, with parts that look more like the United States, the main difference being the large dilapidated buses belching soot as they waddle through the rock-paved roads.

Guadalajara is also fairly developed, with an old part that is comprised of small old brightly colored buildings and large monumental plazas bordered by colonial era palaces. Many army and police men armed with assault weapons stood guard around the city. Their ski masks and fingers on the trigger raised the nerves a little but overall the city felt fairly safe and comfortable riding the buses late at night. No one seemed to pay attention to me and my camera in spite of the lack of tourists, until they notice my flip-flops them quizzical looks would follow. The standard cowboy boots or all-stars here; no Havaianas (flip-flops) in sight.

Back in Tepic, a large evangelical church is attempting to compete with Catholic church in Mexico. La Luz del Mundo (light of the world) has several churches in Tepic alone and one of them with a huge star of David at the top of a tower and several on the ceilings inside. According to Daniel, there is no symbolism behind the star or the minorahs covering the windows outsid.
In Guadalajara there are quiet a few Jews from what I gather, although as far as synagogues went, I could only find a Jabad (Spanish spelling) nestled in between a park and an American school near the financial center. The Jewish people were apprehensive and seemed to practically run from me upon approach. I found out from David, a finance guy and friend of Ale and Alan, an architect over Micheladas (clamato, pepper, hot sauce and beer) at a biker bar, that most Jews have moved to Mexico City as the large community there allows them to find a Jewish life partner as opposed to the small pool that is in Guadalajara. Another side note, David used to work for a kosher fruit factory in Tepic. Ale took me there on our way to Puerto Vallarta on a Saturday and it was closed as it was supposed to. If it were up to me however, I would revoke their kosher status. A kosher factory is defined by being humane and that does not limit to being humane to animals, but humans as well. The factory has a reputation for being unscrupulous towards its employees going as far as docking pay from mothers going to pick up children from school, white collar not excluded.


For the next week I hope to find the Syrian, Converso, Ashkenazi and Sephardic communities of Mexico City.

Edited by Clayton Beach.