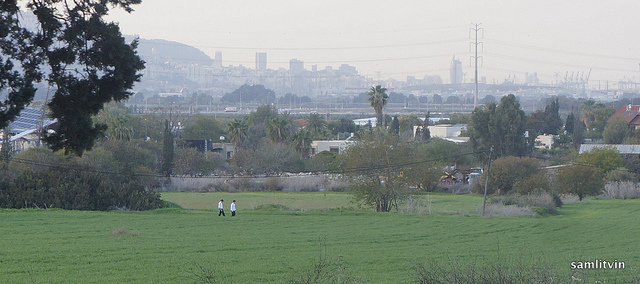 It's an early Wednesday morning when I put on my shoes and pop in my head phones. I turn on my running app and begin my morning stride down a street in south Tel-Aviv. By the time I get to Eilat Street near the beach, in spite of years of running, my lungs fill up with heavy air and I have to slow down. At the same time, at home my wife is sick again. It seems every two weeks or so she comes down with respiratory disease of some sort. We're both suffering from same thing that many Israelis who fear terrorism, suffer without knowing it: the air is rich in particulate matter.
In spite of all the wonderful news about Israel and their environmental tech, they are still reliant on coal, 50% as of 2014 with plans to eliminate it by 2030 according to Times of Israel. However today, there are still over 2000 people a year who die in the area between Ashdod and Tel-Aviv every year according to Haaretz. In Haifa, 15% of cancer cases are attributed air pollution. Israel is dead last of all OECD countries in quality of air. How can StartUp Nation, an intelligent and small country, afford to lose so many people while expending so many resources to fighting the comparatively rare occurrence of terrorism? The Jewish diaspora is quick to defend Israel from outside hate and threats, but it seems to be ignorant of the internal threats and self inflicted harm that costs Israel every year 3.3% of the country's GDP.
The damage is not just from coal, but from heavy reliance on diesel which powers the large amount of trucks, trains and buses that pass through Tel Aviv narrow streets. The city and it's surroundings account for 42% of Israel's population . All of them are exposed to high pollution from cars and passing planes which have been linked to premature deaths, Dementia and Alzheimer's.
What are some of the reasons for this? One reason is protectionism. While Israel now has the natural gas to solve the issue, enough that it exports it to Egypt and Jordan, the several hundred coal jobs hold heavy sway in politics, which is why it will take 12 years to transition away from coal, gas and diesel. The temporary jobs of a thousand Israeli workers will cost as many as 30,000 Israeli lives in the next 12 years. This is nearly 10 times more than all the Israelis killed in all the combat since 1948. A few hundred jobs and a few million dollars in profit for a few individuals will cost Israeli citizens $42,000,000,000 US Dollars. That's twice the entire annual spending of Israeli government.
I love living in Israel. So does my wife. Having lived on three continents and traveled to over 40 countries, there's no place that makes me feel at home like Israel. After making Alija and putting in the hard work to become Israelis, we thought long and hard about whether we can make a home here and how that will be living far from our parents and friends in US. But health is important, and so we have to ask ourselves, is our health and children's health is more important than comfort. Do we stay and be sick or leave and be healthy? That is a question that no Israeli should every have to ask themselves.