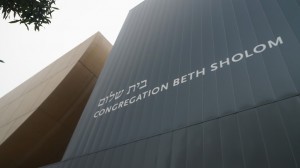 "Amazing things happen when ten men come together to pray." Beth Shalom Rabbi Micah Hyman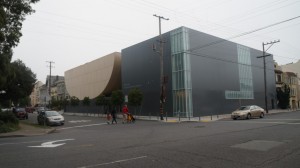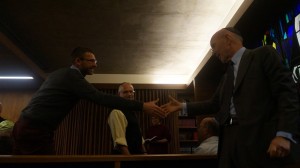 I visited five synagogues in one day and yet-only one had a weekday minion. Beth Shalom is a modern synagogue with a gray metal square facade on one end and a beige facade in the shape of a bowl representing a channukiah. Inside the giant menorah is the prayer hall with an arc built into a giant wood structure on one side, a lit up memorial wall on the other and a stand in the center with seats going up on either side in a stadium fashion. But that night, in a small prayer room with stained glass of Jewish historical figures through out the ages watching over the 12-15 middle to retired aged men and women, all born in US, praying with a strange kind of dissonance.
Unlike other places the cantor voice neither went up nor went down, it was almost like a coo and everyone seemed a little out of rhythm as if they were repeating what he was saying without actually knowing what he said. At the end, the kind Cantor spoke of his mother who had died for whom it was the last day of mourning. Then one by one others would come up to say a prayer for their loved ones who passed and a few words about them. It was a true sense of community and goodness. Their prayers may not have been perfect, their voices may not have been beautiful, their chanting and stomping may not have been loud and their clothes were not at all fancy, but they seemed to be happy to see each other and to care for each other and that is what I believe god really wants of us. The laws are made not for him, but for us and in San Francisco, this little community seemed to have a pretty good handle on that.
Thank you for donating.