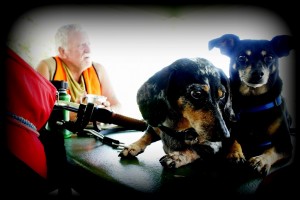 Bill and all of his belongings.
The road from Houston to Louisiana is pockmarked with little cities unlike the road from El Paso to Houston which is views of prairies and vistas. Large swaths of uninhabited land without water in sight as opposed to rivers and lakes and little plazas at every exit.
Louisiana, began with a rest stop on a lake. I met there Bill, a retired cop and Vietnam vet. He wore a name tag of a MIA Major, he had a red reflector vest and tattoos of his dogs, a chihuahua and a daxhound. His two babies, the only two things he got out of a divorce he did not want, sat on the table resting their heads on each other beneath a gazebo. Bill biked here from Tombstone Arizona. He used to have a tent and a stove, but the beach cruiser with the weight was killing his knees, he is 63, no spring chicken, so he left it all behind and biked with the dogs, two pairs of shorts and a food bag. He has no destination, just a desire to find a home on a lake and watch the sunset. I left him a few bagels and drove on through the state of trailers hidden inside mangroves. Police cruisers were a regular sight. The road hangs over the giant swamp of Atchafalaya. For miles and miles the elevated highway continues without ability to turn around.
Louisiana heat and mangroves gave way to the humidity and thick trees of Mississippi. I thought of plantations and my childhood friends: Tom Sawyer and Huck Finn making their way down. I stopped by an old cemetery, full of little children, mothers and fathers, tiny headstones with wise words and giant monuments with little inscriptions. I drove past NASA Rocket test facilities where Confederate flags flew near by. In Mississippi, the only sign of a town is the lower speed limits which are easy to miss. I was pulled over by a speeding Dodge Charger. The officer, still tanned from his stint in Iraq, let me off with a warning after searching my car for half an hour for contraband.
I started to see plains and fields as I crossed over to Alabama the groves got higher and thicker. I planned to stop in Birmingham, I wanted to see where Martin Luther King smelled air for the last time. But I stopped in Tuscaloosa instead, and had an 8-bit ale along with a Willy Burger at the Green Bar. Served by a cute hostess with at $3000 boob job while listening to a trivia guy with an Alabama accent.
"I'd like a south-ern pecan ale"
"You're not from the south are you"
I probably should have ordered a suthen ale I think to myself.
I watch the pretty girls, the guys with tucked in pink polo shirts, backwards Ralf Lauren hats and many many loafers smoking and drinking and acting like frat boys that they are and I can tell that everyone can read my contempt for it. Lucky for me, the waitress Chaz seems to share my opinion.
"Have you seen black people work there?" She asks when her friend says she should work at another bar.
"That's a consideration here?"
She wants to be on TV, studying communications.
I drive to the hotel and pass out. Wake up early, there's an ambulance in the parking lot. I don't really want to know what happened so I'm off to get out of Alabama. It's a bright sunny day, my sunroof is open, the flatness abates and I begin to wind through the mountains. I can see why it is a sweet home and I glide over the border into sweet Georgia. More mountains, more trees, more valleys and as I pass into Tennessee, there's more of everything including cities, towns, wide roads and lakes and rivers. I slowly make my way up the state into Appalachian mountains. After Knoxville, I drive up into the Smoky Mountains and after Smoky Mountains, the plantations give way to small farms and haystacks, cows and forgotten barns dot the scene to the left and to the right. More mountains as I wind through serpentine roads that reach Virginia, where Yankee colonial style quickly takes over southern humid plantations. There are more strip malls but the churches drop the crosses and instead topped with spires. There are no more cities that end in ville, instead it's burghs. The homes and towns are no longer hidden by trees along the side of the freeway. Forests are broken up by farmland, barns and colonial homes. Old mountain men stand along the road in yellow jumpsuits as new pavement is slabbed onto old roads. Hikers cross the large mountains and stop by stores to fill up for the long walk through the Appalachians. Soft yellows of a setting sun light the fields aglow as I near Washington DC. First sign of traffic along the trip hits as I arrive into the capital along a highway which our fore-fathers used for chariots at much slower rate than I. I pull onto the one and pass the mega complex that is our defense, the pentagon. I pass the Jefferson memorial and ride past the Washington Monument. It's a special feeling, even though it is my third time here.
I find my sister and my trip's third destination, is reached. I missed her birthday by a couple days but it's OK as we head to an Ethiopian place to eat with our hands and catch up. And I think how my next time having Ethiopian will be in Ethiopia.