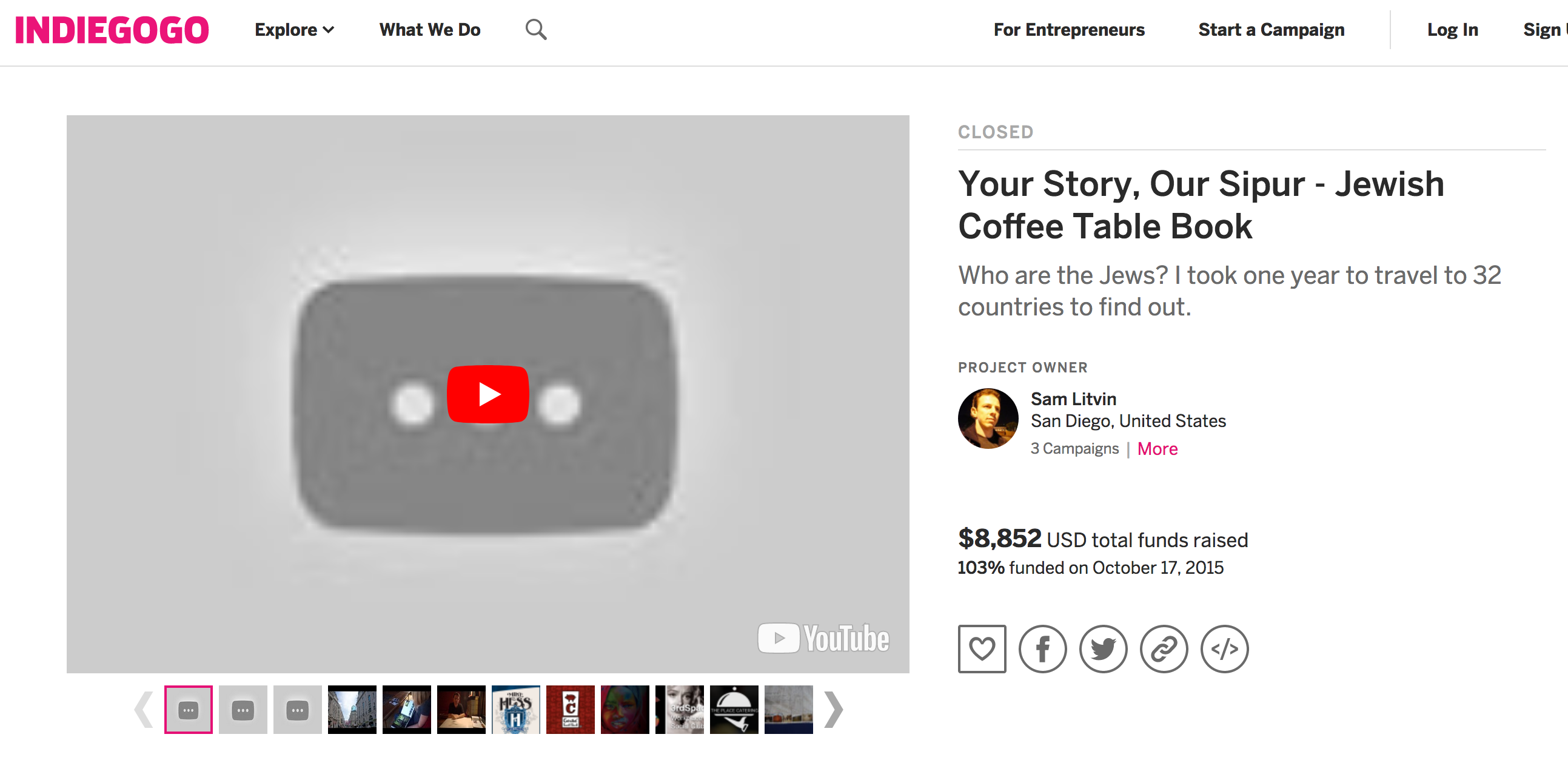 It's a hot summer night and I am sitting in my apartment, in Tel Aviv and I am going through my inbox deleting old emails. 2018, 2017, 2016 and in 2015, I start seeing the emails. I suddenly realize that it is nearly three years since I began the campaign to print a book of my photographs and stories from the travels around the world. It is nearly six years since those travels took place. I begin reading the emails from that campaign when friends, family and community members from around the world, banded together around me and the project and funded the printing of the Your Story, Our Sipur book
I am transported back three years ago and the feelings return. I remember being moved, I remember being stressed, I remember being grateful, I remember being focused and confident that we would meet the goal. Going back over those emails of notifications of friends, family and acquaintances who gave to the project $5, $10, $15, $100 or more and realizing just how much more I appreciate their help. Every single person, regardless of how much they gave, I appreciate it, I appreciate them wanting to give, to help, to care.
The book today is in eight stores around the country. It did not sell out, but it did help some people understand what I understood by traveling to all those places. Today, living in Tel Aviv, I see the book just as clearly as I saw it when I first envisioned it, but even more so. I see my people, imperfect. I see my people, diverse. I see the country of my ancestors for what it is, for what makes it wonderful, for everything that it is because of all the people who live here: Jews, Druze, Christians, and Muslims. I see it for the people who created it its original history, for the people who created its new history through Islam and Christianity, living here for 2000 years through Roman, Ottoman and Crusader rulers. I see it and I love it. It makes me realize how few there are of us and after almost a year, I can say that I developed a true love for all the people, in spite of their faults, for their faults. I love them regardless of their political views, their religion, their temperament. I love this country, even its weather, and bureaucracy. That is unconditional love, it doesn't mean that I don't want it to improve, it just means I love it regardless of whether it improves or not.
I am here living with my wife Stephanie, I know that without her help, I would not make it through this year as well as I have, who is so adventurous as to come here and brave the journey and the sacrifices to be here. Without her, it is not certain I would have passed the mark to print the book. I realize that it is her, my parents and my friends who made my dream possible in so many ways. It makes me realize that lonely dreamers remain dreamers, but dreamers who are lucky to love and be loved, see their dreams become a reality.
As I read the emails, I realize that I fill with gratitude and a disire to thank, to thank everyone for their help. The past six years included many talks with many communities about the travels, but mainly, it is the book that spoke for me and it did so thanks to all of you. Because of you, it was able to speak to you and through you.
Things are certainly uncertain these days, for all people around the world. However, looking through the emails from so many people, one thing is certain: humanity. Our love for each other is our humanity; love that makes us come together, to believe in ideas and dreams and to help each other make those dreams a reality. Dreams are purpose, they are essential for our lives, and making them come true is the true gift of life.
Thank you, friends. Please feel free to write me your thoughts and comments and if you have a dream, don't hesitate to ask for help, because all dreams are bigger than us, and so they require more than just us, they require all of us.
Much love,
Sam