The houses of old town Colonia Sacramento are small, old and nearly indistinguishable. They line along wide cobblestones streets, of the small quiet town one hour by ferry from Buenos Aires across the wide mouth of Rio
Plata. Delta of Rio Plata is so wide that in the middle of the crossing I could see no bank, surrounded on all sides by brown murky water with pieces of grass and soil floating by, carried from the continent.
Although the town was founded by Portuguese, Uruguayans seem a lot like Argentinians in the way they look and speak. They speak Spanish with vos instead of tu and replacing y, j and ll with the sound sh. They eat their fatty Chovitos, like a super sandwich with egg, meat, cheese and the option to add everything under the moon. They are an immigrant people of European descent and being three million in a country the size of Belarus, they are not in a hurry to get anywhere because there is plenty of space for everyone.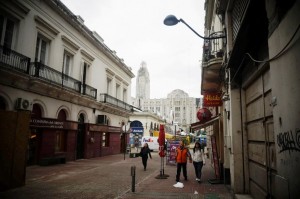 It is a more orderly country that Argentina: less graffiti, higher prices and people are a little nicer. In the center of Colonia Sacramento is a lively restaurant with a singer in sunglasses and exuberant sense of style. Wall are covered with color and various paintings and outside are parked old 1930 era cars with a table inside of one and a garden literally growing inside the other.
Down the street is a lighthouse with steep narrow stairs winding to the top that had been built into the ruins of an old church next to the remnants of an old synagogue. Speaking of synagogues, around here, you can find mezuzas on doors as Jews had stayed here after arriving to escape the persecution of the inquisition before as well as the devastating inflation of Buenos Aires more recently.


The capital Montevideo is only five hours by bus. A small city of a bit more than a million people (1/3 of population of Uruguay) with the feel of a small Buenos Aires. Founded straddling the river, you're never far from sight of water and as the old city is on a small raised plateau, it makes it such that when you look down it's well planned criss-crossing streets, you can see the brownish river in between the two to three story European buildings. Of course when I say river, it feels more like an ocean as the other bank is nowhere in sight.
Unlike Buenos Aires, Montivideo did not build distinct French areas or Italian areas, and so a French style Art Noveau building with its wrought iron mini gates on windows will be pressed firmly against an Italian style building with its tall and narrow shutters. Synagogues pockmark these narrow streets and plazas although most of them have been abandoned. As the immigrant Jews moved into middle class, they moved to the nicer areas like Pocitos while others fled the unemployment and drop in business that gripped the country in 2001 as it did in Argentina.
It is hard to believe that small Montevideo used to host a Jewish population of over 40,000, equivalent to that in Brazil before crisis of 2001 hit. Little Uruguay is situated between Brazil and Argentina, two G20 powers and it felt the breeze of their cold and Jews plunged into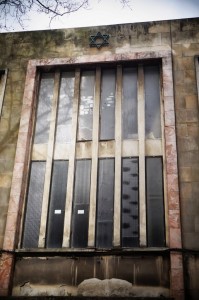 poverty from middle class. With out much existing infrastructure to help them, 50% left by the time JDC (American Jewish Joint Distribution Committee) came to help, whose prime efforts were concentrated on the plight of the poor in Argentina where 40,000 Argentinian Jews plunged into poverty.
Why would so many leave? Maybe it is the secular nature of Uruguay, where church and state have been separate from the beginning, maybe it's their relative coldness and aloofness or maybe it is the way that the Jewish system bureaucracy and post AMYA bombing fears mirror the bureaucracy of Uruguay and the fearfulness of Argentina that made it easier for Jews to leave. A Jewish guard said to me "We in Uruguay don't give a shit about religion." A director of the Jewish congregation was too busy to talk because I was 20 minutes late for an appointment after a bus mix-up. At a Synagogue where I called ahead, I was also turned away. This kind of closeness and fearfulness can't be good for the soul.

Whatever the reason for the mass plight from Uruguay, the Armenian, Sephardi and Ashkenazim synagogues are dormant in the old Jewish quarter, collecting graffiti and loosing their windows while some became new homes for Christian congregations. The large Maccabi center in the center, looks out over the river Plata with its large silver Magen David on a tower, broadcasting Jewish association proudly. Streams of kids and athletes go in and out of the grey building while buildings around it fall or already fell into disrepair, broken windows, fires, graffiti. While largest Holocaust memorial of South America made to look like a giant
granite scar, like the community, is invisible from the road. It stands on the bank of the river, its inscriptions disappearing with time and Atlantic winds, it is slowly becoming forgotten. And the only lively remnant of a vibrant community is the Jewish private school and college ORT (Russian for Organization of Work and Labor) in Pocitos that educates all Uruguayans regardless of background.
Maybe it's the weather, the cold and cloudy always seems to make a place and people a little sad and a little grim and the streets a little less lively whether it is Boston, Moscow or Montevideo. There is a sense of sadness in a city that is quiet, nice and less hectic compared to Buenos Aires.